Street Scene for Alessandro Piccolomini's play "L'Ortensio" behind a Proscenium Arch
Pen and brown ink and wash, on paper.
11 x 11 1/8 inches (280 x 382 mm)
Gift of Mrs. Donald M. Oenslager, 1982.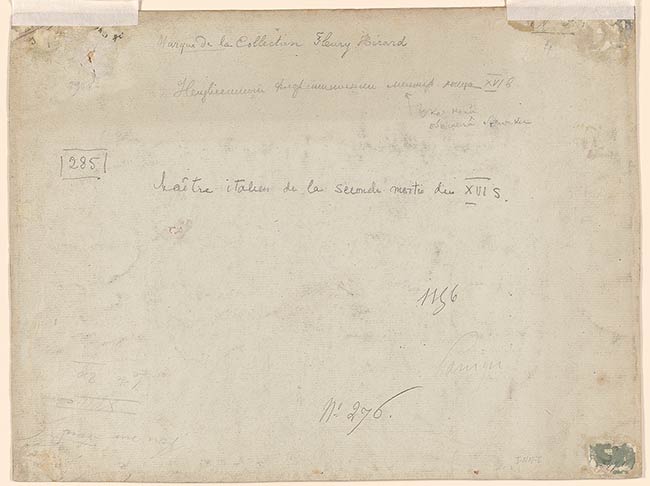 Inscription:
Inscribed on verso of mount, at upper center, in graphite, "Marque de la Collection Fleury Heŕard"; beneath this, "[inscription in Russian]", followed by illegible inscription in Russian; "285 (in a rectangle)"; to the right of this, in graphite, "Maître italien de la seconde moitie du XVI S"; further inscriptions, in graphite, "1156; Panini; N[superscript o]=276"; at lower right, in black chalk, "3076"; at lower left, in graphite, "[...] / XVII è / fête 20 (?)".
Watermark: Fleur-de-lis in circle.
Watermark: Fragment, on mount.
Provenance:
Flury Hérard, Paris (Lugt 1015, No 515); Alexandre Benois, Paris; unidentified collector (mark, in black ink, in lower right corner, A? in a circle); purchased by Donald Oenslager in 1963.
Bibliography:
Oenslager, Donald M. Four Centuries of Scenic Invention : Drawings from the Collection of Donald Oenslager. Washington, D.C. : International Exhibitions Foundation, 1974, p. 16-17, no. 4, repr.
Oenslager, Donald M. Stage design : four centuries of scenic invention. New York : Viking Press, 1975, p. 32-33, no. 5, repr.
See letters of Carlo Alberto Chiesa and Per Bjurstrom for further information regarding this sketch.
Notes:
"L'Ortensio" was first performed on the occasion of the Duke Cosimo di Medici's first visit to Siena.
Associated names:
Flury-Hérard, former owner.
Benois, Alexandre, 1870-1960, former owner.
Oenslager, Donald, 1902-1975, former owner.
Piccolomini, Alessandro, 1508-1578 L'Ortensio.