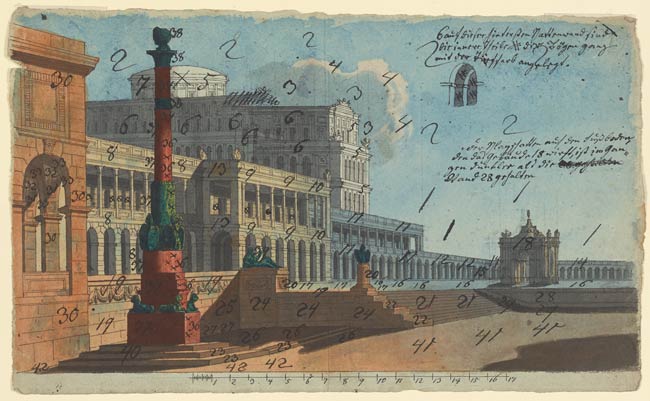 A Square before a Classical Palace
Pen and black ink, with watercolor, over pencil, on paper
9 x 15 inches (230 x 380 mm)
Gift of Mrs. Donald M. Oenslager, 1982.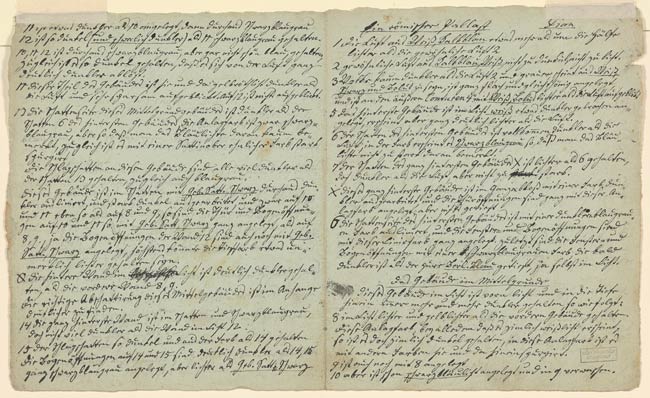 Inscription:
Scale indicated along lower edge of drawing. Variously inscribed in pen and black ink with numerical notations, which refer to the numbers used by the scene painter; at upper right, "6 auf dieser hintersten schttenwand sind / die innere theile derbögen ganz / mit der Tieffarb angelegf", and below this, "der Schlagschatten auf den Fussboden, / den das Gebäude 18 wirft, ist im Gan, / zen dunkler als die [word crossed out] / wand 28 gehalten".
Provenance:
Michael Mayr, Eisenstadt and Vienna (no mark; see Lugt S. 1804a); by descent to Marianne Fajt, Eisenstadt (see Lugt S. 1804a); Janos Scholz, New York (no mark; see Lugt S. 2933b); acquired in 1951 by Donald M. Oenslager, New York.
Notes:
On verso, in German, a detailed written description of the scene.
Associated names:
Mayr, Michael, 1796-1870, former owner.
Fájt, Marianne, d. ca. 1955, former owner.
Scholz, János, former owner.
Oenslager, Donald, 1902-1975, former owner.