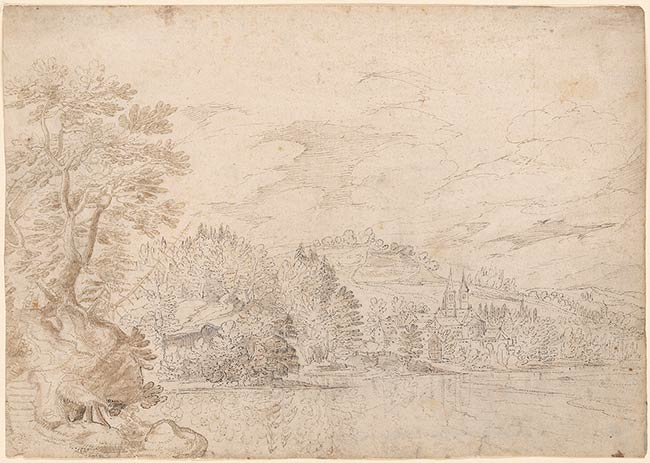 Attributed to Frederik van Valkenborch
Wooded Landscape by a Lake with the Convent of Melk
Pen and brown and black ink, brown wash, over traces of graphite, on paper.
7 3/4 x 11 inches (197 x 280 mm)
Purchased on the Fellows Fund as the special gift of the Cremer Foundation.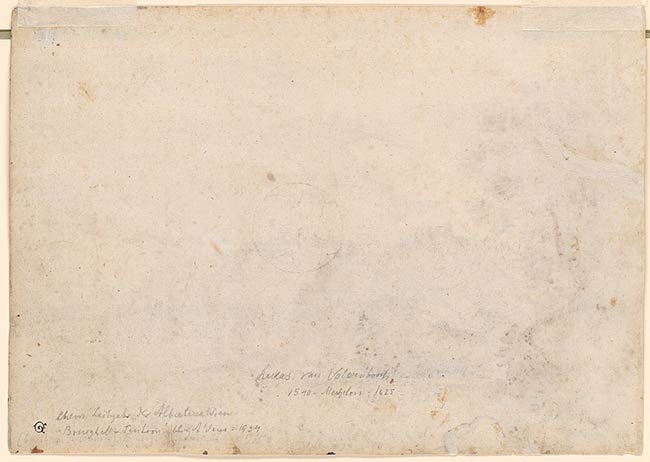 Inscription:
Inscribed on the verso, at lower center, in graphite, "Lukas van Valkenborsch / 1540-Mechelen - 1625"; at lower left corner, in graphite, "...- Albertina, Wien / Brueghel - Tentoon...1934".
Provenance:
Hendrik Gevers (1715-61), Burgomaster of Rotterdam (Lugt 1121); unidentified collector (Lugt S. 1123a); Archduke Friedrich of Austria (1856-1936), Vienna; on loan to the Albertina, Vienna; P. de Boer, Amsterdam; Gebr. Douwes, Amsterdam; R.M. Light and Co., Boston; Paul Drey Gallery, New York.
Notes:
Watermark: Circle with a cross on a trefoil within a quatrefoil.
The town of Melk is located in north central Austria on the Danube River. The drawing was probably originally part of a sketchbook made by van Valckenborch during an extended journey along the Danube and through the Alps in 1588-9. Other pages from the sketchbook are housed in the Rijksprentenkabinet, Amsterdam, the Museum of Fine Arts, Budapest, the Kupferstichkabinett, Dresden, and the British Museum, London.
Associated names:
Gevers, Hendrik, 1715-1761, former owner.
Habsburg, Frederick, 1856-1936, former owner.