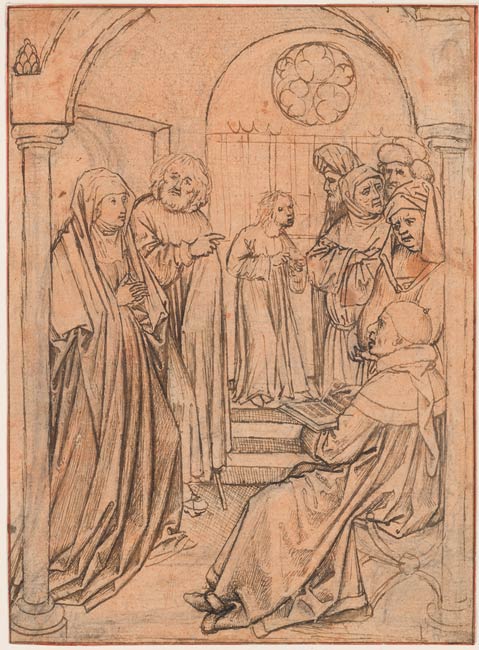 Christ among the Doctors: Luke 2:46-47
Pen and brown ink, over black chalk, on laid paper prepared with red chalk wash.
9 9/16 x 7 inches (243 x 177 mm); Secondary support: 9 5/8 x 7 1/16 inches (244 x 179 mm )
Purchased by Pierpont Morgan (1837-1913) in 1909.
Inscription:
Inscribed on verso, at lower left, in black ink, "Theodor (crossed out) van ... lem".
Watermark: None. Gothic letter "P" on lining of drawing (cf. Briquet 8527).
Provenance:
Henry Temple, second Viscount Palmerston (1739-1802); Henry John Temple, third Viscount Palmerston (1784-1865); probably his stepson, William Francis Cowper-Temple, Baron Mount-Temple (1811-1888); his nephew, the Right Honorable Evelyn Ashley (1836-1907), biographer of second Viscount Palmerston; probably Ashley's sale [collection of second Viscount Palmerston], Christie's, 24 April 1891, one of three in lot 136 ("Baldassare Peruzzi. Christ teaching in the Temple; and other sacred subjects"; to Fairfax Murray for £1.18.0); Charles Fairfax Murray (1849-1919), London and Florence; from whom purchased through Galerie Alexandre Imbert, Rome, in 1909 by Pierpont Morgan (1837-1913), New York (no mark; see Lugt 1509); his son, J. P. Morgan, Jr. (1867-1943), New York.
Bibliography:
Stampfle, Felice, with the assistance of Ruth S. Kraemer and Jane Shoaf Turner. Netherlandish Drawings of the Fifteenth and Sixteenth Centuries and Flemish Drawings of the Seventeenth and Eighteenth Centuries in the Pierpont Morgan Library. New York : Pierpont Morgan Library, 1991, p. 55, no. 91 (repr.).
Collection J. Pierpont Morgan : drawings by the old masters formed by C. Fairfax Murray. London : Privately printed, 1905-1912, I, 226, repr. (Flemish School, 15th cent.)
Notes:
A contemporary of Memling, Vrancke van der Stockt was active in Brussels, where he took over the workshop of Memling's master Rogier van der Weyden after the latter's death in 1465. The almost thirty surviving drawings by Vrancke's hand make him the earliest Flemish artist for whom we have a significant drawn oeuvre. His idiosyncratic thick, long pen strokes delineating draperies, coupled with thinner strokes and occasional hatching, are much influenced by Rogier's drawing style. The underdrawing in Memling's Crabbe triptych, especially in the figures of the Annunciation on the outer wings, is similar to Vrancke's style and shows the extent to which Memling was also indebted to his early training with Rogier in Brussels. -- Exhibition Label, from "Hans Memling: Portraiture, Piety, and a Reunited Altarpiece"
Associated names:
Anonymous, Flemish School, 15th cent., Formerly attributed to.
Palmerston, Henry Temple, Viscount, 1739-1802, former owner.
Palmerston, Henry John Temple, Viscount, 1784-1865, former owner.
Mount Temple, William Francis Cowper-Temple, Baron, 1811-1888, former owner.
Ashley, Evelyn, 1836-1907, former owner.
Murray, Charles Fairfax, 1849-1919, former owner.
Morgan, J. Pierpont (John Pierpont), 1837-1913, former owner.