approximately 1480-approximately 1539
Design for a Stained Glass Roundel with a Coat of Arms and Four Scenes from the Life of St. Andrew
Pen and black and brown ink, over black chalk, on paper.
11 3/8 x 10 7/16 inches (290 x 265 mm)
Purchased on the Fellows Fund, with the special assistance of the Cremer Foundation, Mrs. Alfred Brittain, III, Mrs. James H. Ripley; and the Edwin H. Herzog Fund.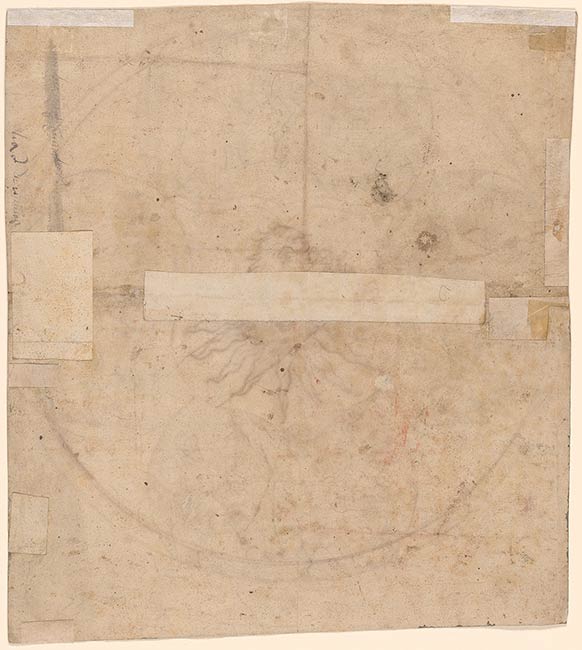 Inscription:
Signed with monogram "HS (interlaced) above a litte shovel". Traces of an inscription trimmed away at upper left edge. Inscribed in a contemporary hand on verso, in graphite, "...Domini...xvii / ...[illegible]".
Provenance:
G. Schwarting, Delmenhorst; private collection, Germany; Thomas Agnew and Sons, Ltd., London.
Bibliography:
Edward Schilling, "Zeichungen des Hans Leonhard Schäufelein," Zitschrift für Kusntwissenschaft, ix, 1955, 157-158, 177, no. 4, fig. 8.
Alter Meister aus Deutschem Privatbesitz, Kunsthalle, Bremen, 1966, no. 62, pl. 32.
Ryskamp, Charles, ed. Twentieth Report to the Fellows of the Pierpont Morgan Library, 1981-1983. New York : Pierpont Morgan Library, 1984, p. 298-299.
Associated names:
Schwarting, G., former owner.
Brittain, Alfred, Mrs., donor.
Ripley, James H., Mrs., donor.