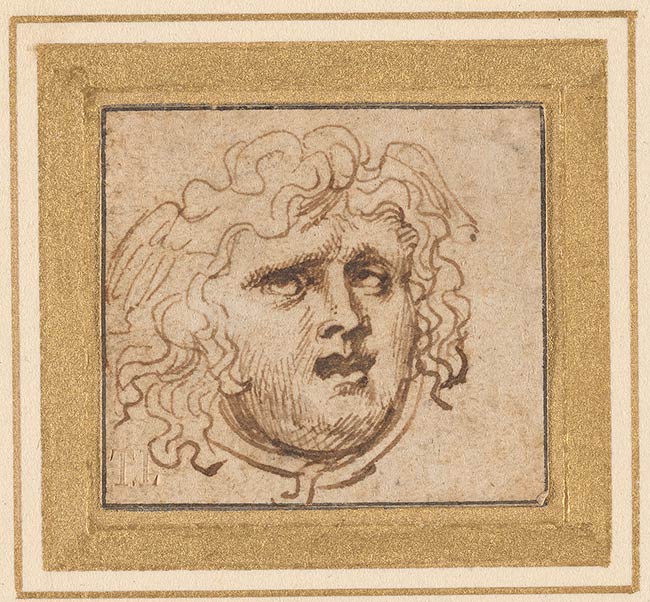 Six studies after Antique Gems and Coins: Head of Medusa
Pen and brown ink on paper; framing line in black ink.
1 3/8 x 1 1/2 inches (35 x 38 mm)
Purchased by Pierpont Morgan (1837-1913) in 1909.
Provenance:
Paignon Dijonval (1708-1792), Paris; his grandson, Charles-Gilbert, Vicomte Morel de Vindé, Paris (no mark; see Lugt 2520); the collection sold in 1816 to Samuel Woodburn (no mark; see Lugt 2584); Sir Thomas Lawrence (Lugt 2445); his sale, London, Christie's, 4-8 June 1860, lot 813 (to Enson for £5.15.6); sale ("Well-Known Amateur." "Brooke" according to annotation in British Museum copy of catalogue and also Fairfax Murray's Notebooks: "Hope" according to Lugt, "Répertoire", no. 50106), London, Sotheby's, 20 June 1891, lot 194 (to Fairfax Murray for £3.0.0); Charles Fairfax Murray (1849-1919), London and Florence; from whom purchased through Galerie Alexandre Imbert, Rome, in 1909 by Pierpont Morgan (1837-1913), New York (no mark; see Lugt 1509); his son, J. P. Morgan, Jr. (1867-1943), New York.
Bibliography:
Collection J. Pierpont Morgan : Drawings by the Old Masters Formed by C. Fairfax Murray. London : Privately printed, 1905-1912, III, 162:2.
Stampfle, Felice, with the assistance of Ruth S. Kraemer and Jane Shoaf Turner. Netherlandish Drawings of the Fifteenth and Sixteenth Centuries and Flemish Drawings of the Seventeenth and Eighteenth Centuries in the Pierpont Morgan Library. New York : Pierpont Morgan Library, 1991, p. 149, no. 312.
Notes:
Six on one mat.
Watermark: none.
Formerly attributed to School of Sir Peter Paul Rubens, 1577-1640.
Drawing is one of six studies at the Morgan Library that was probably intended to illustrate a planned but never completed text on antique gems and coins by Rubens and the French scholar Nicolas-Claude Fabri de Peiresc (1580-1637).
Associated names:
Rubens, Peter Paul, 1577-1640, School of, Formerly attributed to.
Paignon-Dijonval, 1708-1792, former owner.
Dijonval, Charles-Gilbert, Vicomte Morel de Vindé, former owner.
Woodburn, Samuel, 1785 or 1786-1853 former owner.
Lawrence, Thomas, Sir, 1769-1830, former owner.
Murray, Charles Fairfax, 1849-1919, former owner.
Morgan, J. Pierpont (John Pierpont), 1837-1913, former owner.