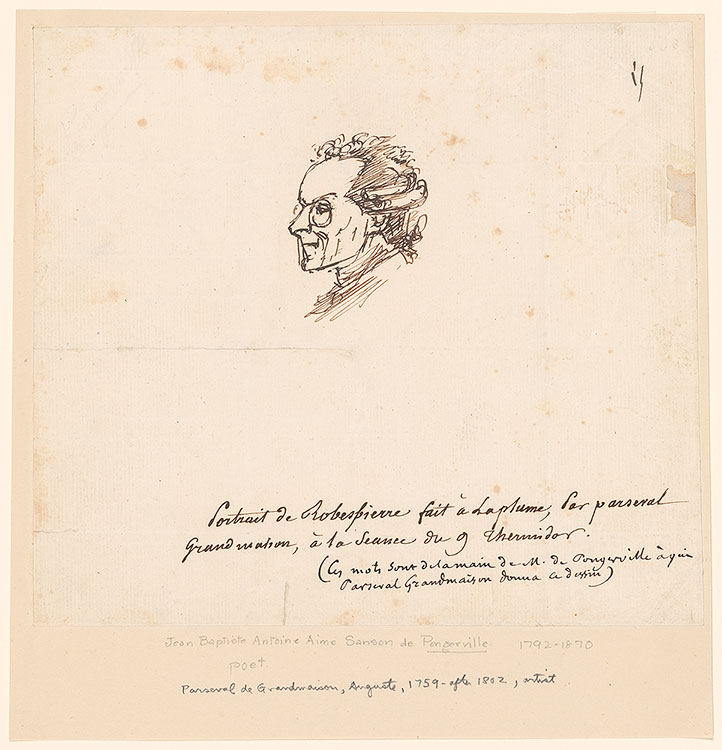 Francois Auguste de Parseval-Grandmaison
Pen and ink portrait sketch of Maximilian Robespierre
Pen and brown ink on laid paper.
6 7/16 x 7 3/16 inches (165 x 182 mm)
Inscription:
Inscription in ink in a contemporary hand below drawing reads: Portrait de Robespierre fait à la plume, par Parseval-Grandmaison, à la séance du 9 Thermidor. (Ces mots sont de la main de M. de Pongerville à qui Parseval-Grandmaison donna ce dessin).
Provenance:
Jean Baptiste Antoine Aimé Sanson de Pongerville.
Bibliography:
Catalogue des objets formant l'exposition historique de la Révolution française : salle des Etats aux Tuileries, place du Carrousel. Paris : Société de l'histoire de la révolution française, 1889, p. 120, no. 1075.
Société des études robespierristes. Annales révolutionnaires, v. 1. Paris : Ernest Leroux, 1908, p. 659.
Notes:
On laid paper; watermark: none.
[Formerly? Published ] "In Outline of the French Revolution." (print room card)
Summary:
Sketch shows the head of Robespierre in profile, facing left, wearing a wig and spectacles.
Associated names:
Pongerville, De, 1792-1870, former owner.