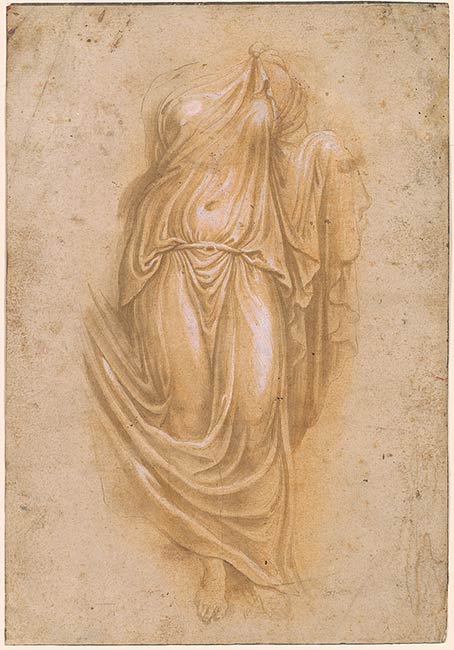 Attributed to Girolamo da Carpi
Copy after Farnese "Flora"
Pen and brown ink, brown and yellow wash, over black chalk or metalpoint, with white opaque watercolor, on paper.
9 7/8 x 6 13/16 inches (251 x 173 mm)
Inscription:
Inscribed on verso in pen and brown ink: "IV(?);" in graphite: "No.3 / gerra(?) ancien g de mar ges(?) / LV(?) anneau."
Provenance:
Purchased in Paris in 1955 by János Scholz (1903-1993), New York (see Lugt Suppl. 2933b).
Description:
The drawing is a free copy of an antique statue known as the Farnese Flora, now in the Archeological Museum at Naples.1 The statue is first recorded, in an unrestored state, in three sketches on a single sheet by Maarten van Heemskerck who is known to have been in Rome between 1532 and 1536.2 By 1561, the date of a print by Giovanni Battista de' Cavalieri, the statue had been restored.3 The Morgan drawing was likely made before this date since it shows the statue unrestored. The statue was in the courtyard of the Palazzo Farnese, Rome, until 1787 when it was further restored and then sent on to Naples in 1800.
Philip Pouncey suggested attributions both to Biagio Pupini and Girolamo da Carpi. The latter is favored here, especially if one takes into consideration two drawings, similar in handling and style, attributed to Girolamo da Carpi from the De Pass collection and now in the Royal Cornwall Museum at Truro.4 One of these is of a Dancing Nymph after the antique sarcophagus from Villa Borghese, now in the Louvre, the other of an amazon on horseback, already given to Girolamo da Carpi since Jonathan Richardson Sr.'s days and accepted as such by A. E. Popham. Da Carpi is documented as having been in Rome from 1549 to 1553.
Footnotes:
Haskell and Penny 1981, 217-219, no. 41.
Hülsen and Egger 1913-16, 33-34.
Cavaleriis 1560-94, 1: pl. 11.
Royal Cornwall Museum, Truro, inv. 1928.371, 1917.9.21. See Joannides in London and Truro 1994, 22-25, no. 6, 7.
Bibliography:
Selected references: New York 1969, no. 2 (as Pirro Ligorio).
Scholz, Janos. In the Shadow of Vesuvius : Neapolitan Drawings from the Collection of János Scholz. New York : Finch College Museum of Art, 1969.
Notes:
Attributed to Girolamo Sellari, called Girolamo da Carpi.
Formerly attributed to Pirro Ligorio (Naples 1513-1583 Ferrara); acquired as Pirro Ligorio; Biagio Pupini (active 1511-1551).
Watermark: none visible through lining.
Associated names:
Scholz, János, former owner.
Ligorio, Pirro, approximately 1513-1583, Formerly attributed to.
Pupini, Biagio, active 1511-1551, Formerly attributed to.