Christ at the Column, Head of a Man, and Study of a Left Arm. Verso: Study after Antique Female Statue
Black chalk (?) with white opaque watercolor, (Christ); pen and brown ink over black chalk with white opaque watercolor,(arm), on laid paper. Verso: black chalk.
9 1/4 x 6 5/8 inches (235 x 169 mm; maximum dimensions)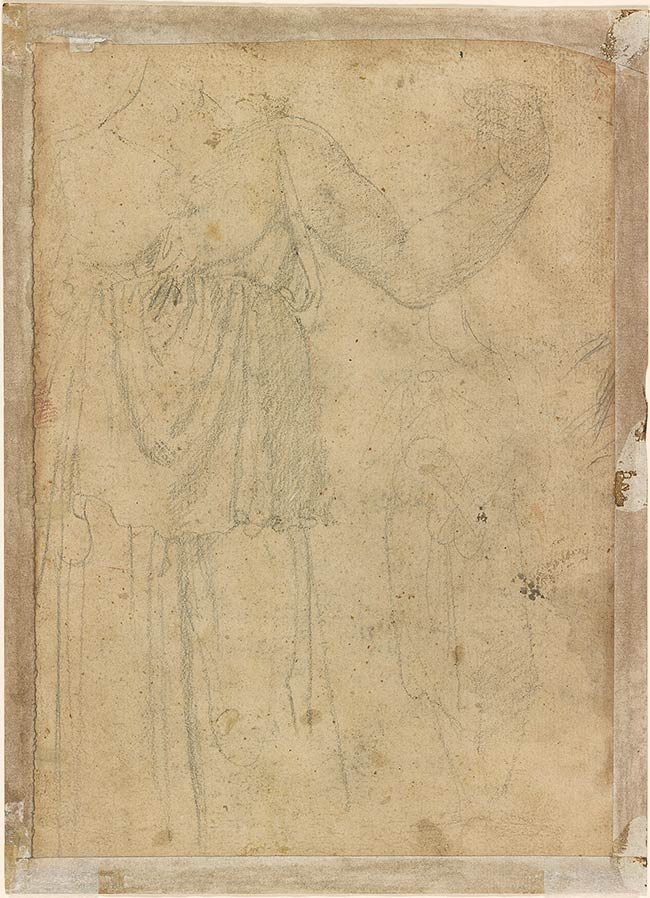 Inscription:
Watermark: Shield with three mounts inside, on crooked chain line, fragment.
Provenance:
Hans M. Calmann (1899-1982), London, from whom purchased in 1948 by Janos Scholz (1903-1993), New York (see Lugt Suppl. 2933b).
Bibliography:
Creighton Gilbert et al. Drawings of the Italian Renaissance from the Scholz Collection. Bloomington : Indiana University Art Center ; Columbus, Ohio : Columbus Gallery of Fine Arts ; Northampton, Mass. : Smith College Museum of Art ; Norfolk, Va. : Norfolk Museum, 1958, no. 33. (Sebastiano del Piombo)
Alfred Neumeyer. Venetian Drawings 1400-1630. Oakland, Calif. : Mills College Art Gallery ; San Francisco : H.M. DeYoung Museum, 1959, no. 66. (Sebastiano del Piombo)
Italian Drawings from the János Scholz Collection (exhibition pamphlet) New York : Staten Island Museum, 12 February-1 April 1961, no. 20. (Sebastiano del Piombo)
Italienische Meisterzeichnungen vom 14. bis zum 18. Jahrhundert aus amerikanischem Besitz: Die Sammlung János Scholz. New York : Hamburger Kunsthalle ; Cologne : Wallraf-Richartz-Museum, 1963-1964. (Sebastiano del Piombo)
Italian Drawings: a loan exhibtion in connection with a symposium to commemorate the 400th Anniversary of the death of Michelangelo, 1564-1964 (exhibition catalog) Milwaukee : Department of Art History Gallery, University of Wisconsin, 1964, no. 35. (Sebastiano del Piombo)
Italian Drawings from the XV and XVI centuries from the collection of János Scholz. Amherst, Mass. : Amherst College Art Gallery, 1966. (Sebastiano del Piombo)
Notes:
The figure of Christ and the faint sketch of the head of a man on the recto appear to have been copied from Taddeo Zuccaro's "Flagellation of Christ" in the Mattei Chapel in S. Maria della Consolazione, Rome, completed in 1556.
This drawing was previously attributed to Sebastiano del Piombo on the basis of the resemblance to Sebastiano's painting of the same subject in S. Pietro in Montorio. Acquired as Sebastiano del Piombo.
Associated names:
Sebastiano, del Piombo, 1485-1547, Formerly attributed to.
Scholz, János, former owner.