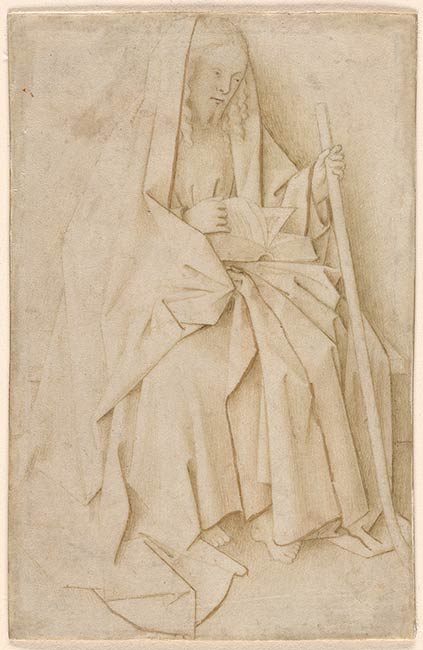 Pen and brown ink and wash, pen and black ink, with shell gold and red watercolor, on parchment.
5 1/4 x 3 3/8 inches (133 x 86 mm)
Purchased by Pierpont Morgan (1837-1913) in 1909.
Provenance:
William Russell (1800-1884), Onslow Gardens, London (no mark; see Lugt 2648); his sale, Christie's, 10-12 December 1884, lot 342 ("Early Flemish School. A monk-bistre and gold [Grosvenor, 1878 (see London 1877-78), No. 594]"; to Thibaudeau for £0.15.0); not in Thibaudeau's sale, Sotheby's, 9-13 December 1889; Charles Fairfax Murray (1849-1919), London and Florence; from whom purchased through Galerie Alexandre Imbert, Rome, in 1909 by Pierpont Morgan (1837-1913), New York (no mark; see Lugt 1509); his son, J. P. Morgan, Jr. (1867-1943), New York.
Bibliography:
Collection J. Pierpont Morgan : drawings by the old masters formed by C. Fairfax Murray. London : Privately printed, 1905-1912, I, 225, repr. (ascribed to Peter Christus)
Stampfle, Felice, with the assistance of Ruth S. Kraemer and Jane Shoaf Turner. Netherlandish Drawings of the Fifteenth and Sixteenth Centuries and Flemish Drawings of the Seventeenth and Eighteenth Centuries in the Pierpont Morgan Library. New York : Pierpont Morgan Library, 1991, p. 3, no. 1, repr.
From Leonardo to Pollock: Master drawings from the Morgan Library. New York: Morgan Library, 2006, cat. no. 30, p. 66-67.
Notes:
Most extant fifteenth-century Netherlandish drawings are copies by anonymous artists of model drawings or of painted compositions by the great masters. Copying was an important part of fifteenth-century studio practice: it educated young artists and produced new models to use and reuse in the workshop. This delicate depiction of St. James Minor was copied after a lost model by Jan van Eyck. The saint is shown with the attribute of his martyrdom, the fuller's club, the end of which is missing because the sheet was cut. The drawing was probably part of a series of twelve apostles drawn on vellum; only one other drawing from the series survives. -- Exhibition Label, from "Hans Memling: Portraiture, Piety, and a Reunited Altarpiece"
Associated names:
Anonymous, German School, 15th cent., Formerly attributed to.
Christus, Petrus, approximately 1410-1472 or 1473, Formerly attributed to.
Russell, William, 1800-1884, former owner.
Thibaudeau, former owner.
Murray, Charles Fairfax, 1849-1919, former owner.
Morgan, J. Pierpont (John Pierpont), 1837-1913, former owner.