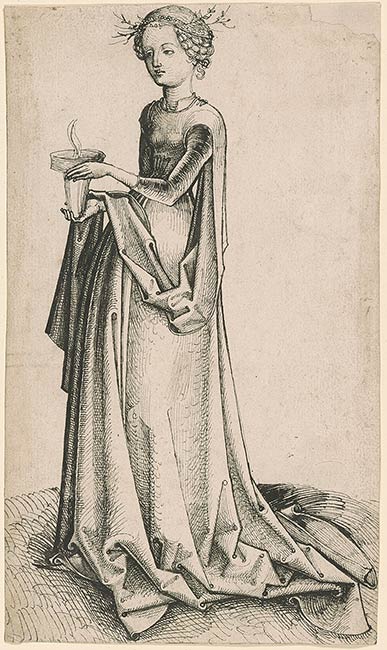 Attributed to Master i.e.
One of the Wise Virgins (Matthew 25:1-13)
Pen and black ink on paper.
8 x 4 11/16 inches (203 x 119 mm)
Purchased as the gift of Mrs. Walter C. Baker in memory of Walter C. Baker.
Provenance:
H.W. Campe (Lugt 1391); his daughter, Mme Luis Vieweg; E. Czeczowiczka; sale, Berlin, C.G. Boerner / Paul Graupe, 12 May 1930, no. 103, pl. XXX.; L.V. Randall; sale, London, Sotheby's, 6 July 1967, lot 3, repr; C.G. Boerner.
Bibliography:
C.G. Boerner, Liste XXXVII, Leipzig, 1918, no. 117.
R. Forrer, Archives alsaciennes d'histoire de l'art, I, 1922, 31, ff.
Max Lehrs, Geschichte und kritischer Katalog des deutschen, niederländischen, und französischen Kupferstichs im XV. Jahrhunderts, V, Vienna, 1925, 322.
K. T. Parker, Elsässische Handzeichnungen des XV. und XVI. Jahrhunderts, Freiburg i.B., 1928, 29, no. 14, repr.
Winzinger, Franz, Die Zeichnungen Martin Schongauers, Berlin, 1962, no. 81, repr.
Ryskamp, Charles, ed. Seventeenth Report to the Fellows of the Pierpont Morgan Library, 1972-1974. New York : Pierpont Morgan Library, 1976, p. 173 (as Master of St. Catherine's Wheel, also known as the Monogrammist i.e., late 15th century)
Notes:
Watermark: cross (fragment). Watermark, beta radiograph. cross. 144546wm_1974_17_WM_beta.jpg
Associated names:
Master of St. Catherine's Wheel, 15th cent., formerly attributed to.
Campe, Heinrich Wilhelm, 1770-1862, former owner.
Vieweg, Luis, Mme., former owner.
Czeczowiczka, Edwin, 1877-1971, former owner.
Randall, L. V., former owner.
Baker, Lois Duffie, -1979, donor.