Attributed to Circle of Domenico Campagnola
Landscape with Farm Buildings with Carpenters and a Herd of Swine at a Trough
Pen and brown ink on paper; framing lines in pen and brown ink.
9 1/8 x 14 7/8 inches (232 x 379 mm)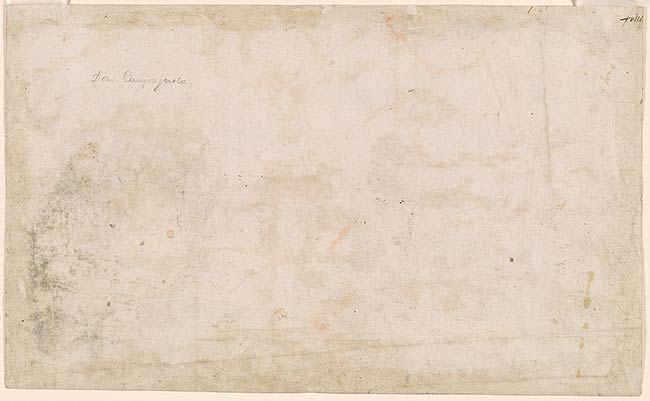 Inscription:
Inscribed on verso, at lower left, cropped by edge of paper, in pen and ink, "...mat"; in black chalk, "Dom Campagnola".
Provenance:
Henry Stephen Olivier, Potterne Mano, Wiltshire (1796-1866; Lugt S. 1373, in blue); Spencers, London (Walter T. Spencer, London); from whom purchased in 1937 by János Scholz, New York (Lugt S. 2933b).
Description:
The Tietzes attributed a group of six drawings to Costantino Malombra (Padua 16th century) on the basis of their resemblance to etchings by that artist. However, companion pieces in the Lugt collection (Byan Shaw 1983, no. 232), Louvre, and British Museum are identified as by Campagnola. Tobias Nickel (Nickel 2017, 197) has also associated the with Campagnola himself, identifying it as a work of the late 1540s or early 1550s. The drawing was copied by Herman de Neyt (1588-1642) and either that copy or Campagnola's original seems to have been used by Peter Paul Rubens as the basis for a landscape in a painting of around 1638, now in the Louvre.
Bibliography:
Tietze and Tietze-Conrat, 1944, 1: 187, no. 785; Durham 1965, no. 18; Hartford 1969-70, no. 20; Washington and New York 1973-74, 115-116, no. 94; Nickel 2017, 197, 288, cat. 189.
Italian Landscape Drawings from the Collection of János Scholz. Durham, N.C. : The Gallery, Department of Art, Duke Univesity, 1965, no. 18, repr.
Notes:
Watermark: none.
Formerly attributed to Costantino Malombra, active in Padua, late 16th century.