Christ among the Doctors: Luke 2:46-47
Watercolor and opaque watercolor, red and black chalks, charcoal, red chalk with wet brush and pen and brown ink on laid paper; sheet extended by the artist on both sides with vertical strips.
17 5/16 x 13 1/16 inches (440 x 332 mm)
Purchased by Pierpont Morgan (1837-1913) in 1909.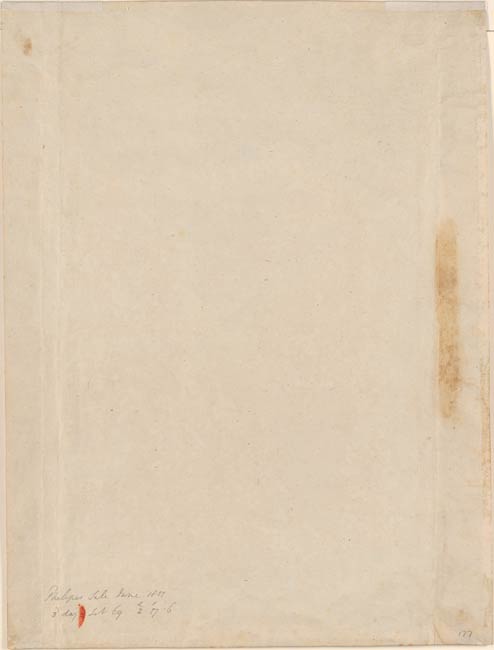 Inscription:
Inscribed at lower right corner, in black chalk, "2"; on verso, at lower left, in graphite, "Philipes Sale June 1807" [actually 1801] / 3 day Lot 69 £s 217.6"; lower right, in graphite, "177".
Provenance:
Possibly Nouri; his sale, Paris, Folliot & Delande, 24 February-14 March 1785, one of two in lot 885; Thomas Philipe (no mark; see Lugt 2451); sale, London, Christie's, 3-5 June 1807, lot 69; Henry Temple, second Viscount Palmerston (1739-1802); Henry John Temple, third Viscount Palmerston (1784-1865); probably his stepson, William Francis Cowper-Temple, Baron Mount-Temple (1811-1888); his nephew, the Right Honorable Evelyn Ashley (1836-1907), biographer of second Viscount Palmerston; Ashley's sale (collection of second Viscount Palmerston), London, Christie's, 24 April 1891, one of three in lot 177 (along with Cat. no. 283, to Fairfax Murray for £3.3.0); Charles Fairfax Murray (1849-1919), London and Florence; from whom purchased through Galerie Alexandre Imbert, Rome, in 1909 by Pierpont Morgan (1837-1913), New York (no mark; see Lugt 1509); his son, J. P. Morgan, Jr. (1867-1943), New York.
Bibliography:
Tuinen, Ilona van. Power and Grace : Drawings by Rubens, Van Dyck, and Jordaens. New York : Morgan Library & Museum, 2018, no. 16 (repr.)
Collection J. Pierpont Morgan : Drawings by the Old Masters Formed by C. Fairfax Murray. London : Privately printed, 1905-1912, III, 170.
Stampfle, Felice, with the assistance of Ruth S. Kraemer and Jane Shoaf Turner. Netherlandish Drawings of the Fifteenth and Sixteenth Centuries and Flemish Drawings of the Seventeenth and Eighteenth Centuries in the Pierpont Morgan Library. New York : Pierpont Morgan Library, 1991, p. 133, no. 288, repr.
100 Master drawings from the Morgan Library & Museum. München : Hirmer, 2008, no. 49, repr. [Achim Riether]
Notes:
Watermark: none.
Drawing is a study for the large painting executed in 1663 for the high altar of the church of Walpurgis at Furnes, Belgium, now in the Mittelrhenisches Landesmuseum at Mainz, Germany.
This is a design for Jordaens's 1663 painting (now at the Landesmuseum in Mainz) showing the twelve-year-old Christ in articulate conversation with the elders of the Temple. Jordaens prepared his study with a complicated technique that includes an under drawing in charcoal, reinforced contours in black chalk, and different layers of opaque watercolor. He also added narrow strips of paper on both sides of the sheet that correspond to the strips of canvas with which he expanded his painting. Jordaens thus returned to the paper once he decided to enlarge the painting. His frequent adaptations of the size and shape of the original sheets reveal that his creative process was fueled by his contact with the physical sheet of paper. -- Exhibition Label, from "Power and Grace: Drawings by Rubens, Van Dyck, and Jordaens"