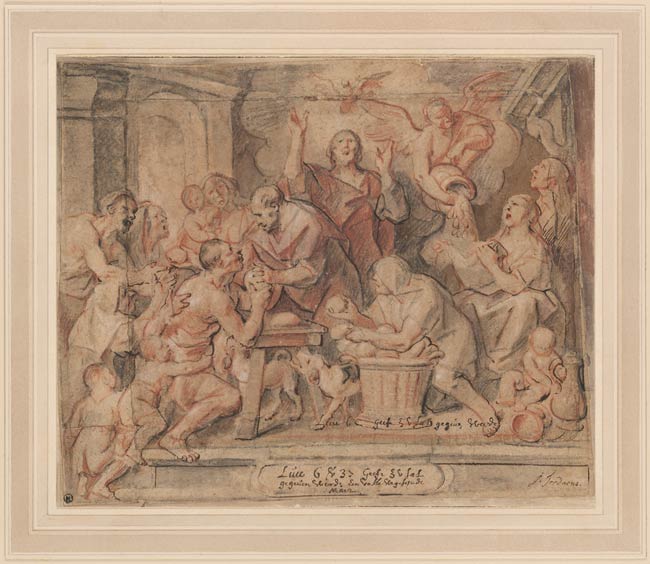 Design for One of the Works of Mercy: "Give and it will be given to you": Luke 6:38
Red and black chalk, some heightening in white chalk, brown and gray wash, contours of the figures partially strengthened with pen and brown ink, on paper; paper variously extended and pieced by the artist on all four sides; laid on heavy mount, the edges tinted with watercolor and occasionally worked in graphite, probably by a later hand, to blend with the colors of the design; framing line in brown ink.
11 5/16 x 13 1/2 inches (286 x 344 mm)
Purchased by Pierpont Morgan (1837-1913) in 1909.
Inscription:
Inscribed at the lower center, in brown ink, "Luce 6 geeft V sal gegeuen worden"; farther below in cartouche, "Luce 6 ver 37 Geeft en V sal / gegeuen worden. Een volle wtgeschude / Maet". Inscribed by another hand, at lower left, in brown ink, "J. Jordaens". On verso, in large script at upper center, in graphite, "Jordaens / No ["o" in superscript]. 14"; in an old hand at upper right, "J. Jordaens / du Cabinet Marriette"; below this, in a later hand, "No - not Marriette / the M too large. / FNS" (?); at lower right, in still another hand, "not Sensier" (?); at center, in green-blue ink illegible large oval stamp. On old mount, in graphite, Madme ["me" in superscript] Blaisot / Paris - 1877."
Provenance:
Illegible collector's stamp in blue-green ink (small original stamp has been altered with pen and black ink to resemble that of Mariette, which, as the inscription on the verso correctly states, it is not); possibly Henry Temple, second Viscount Palmerston (1739-1802); Henry John Temple, third Viscount Palmerston (1784-1865); probably his stepson, William Francis Cowper-Temple, Baron Mount-Temple (1811-1888); his nephew, the Right Honorable Evelyn Ashley (1836-1907), biographer of second Viscount Palmerston (by bequest from Lord Palmerston); possibly Ashley's sale (collection of second Viscount Palmerston), London, Christie's, 24 April 1891, as one of three in lot 177, to Fairfax Murray for £3.3.0; Charles Fairfax Murray (1849-1919), London and Florence; from whom purchased through Galerie Alexandre Imbert, Rome, in 1909 by Pierpont Morgan (1837-1913), New York (no mark; see Lugt 1509); his son, J. P. Morgan, Jr. (1867-1943), New York.
Bibliography:
Collection J. Pierpont Morgan : Drawings by the Old Masters Formed by C. Fairfax Murray. London : Privately printed, 1905-1912, III, 168.
Stampfle, Felice, with the assistance of Ruth S. Kraemer and Jane Shoaf Turner. Netherlandish Drawings of the Fifteenth and Sixteenth Centuries and Flemish Drawings of the Seventeenth and Eighteenth Centuries in the Pierpont Morgan Library. New York : Pierpont Morgan Library, 1991, p. 133, no. 287, repr.
Notes:
Watermark: none visible through lining.
Associated names:
Palmerston, Henry Temple, Viscount, 1739-1802, former owner.
Palmerston, Henry John Temple, Viscount, 1784-1865, former owner.
Mount Temple, William Francis Cowper-Temple, Baron, 1811-1888, former owner.
Ashley, Evelyn, 1836-1907, former owner.
Murray, Charles Fairfax, 1849-1919, former owner.
Morgan, J. Pierpont (John Pierpont), 1837-1913, former owner.