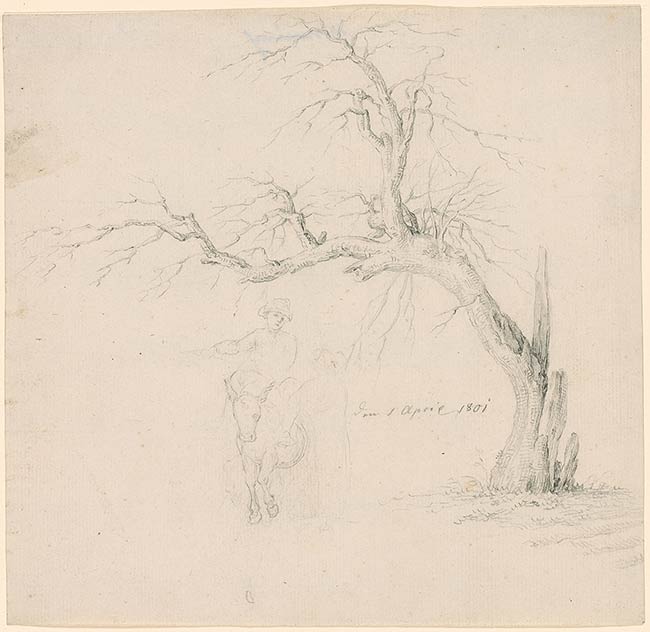 Rider Conversing with a Standing Figure under a Blasted Tree
7 7/8 x 8 3/16 inches (199 x 208 mm)
Purchased as the gift of Charles C. Cunningham, Jr., Mr. and Mrs. Geoffrey Platt, Axel Rosin, and Mrs. Michael Tucker.
Inscription:
Inscribed by the artist at center, in graphite, "den 1 April 1801".
Provenance:
Galerie Arnoldi-Livie, Munich.
Bibliography:
Ryskamp, Charles, ed. Twentieth Report to the Fellows of the Pierpont Morgan Library, 1981-1983. New York : Pierpont Morgan Library, 1984, p. 261.
Notes:
Watermark: D & C BLAUW.
According to Dr. Helmut Börsch-Supan, Berlin, this drawing is probably from the artist's Mannheim sketchbook.
Associated names:
Cunningham, Charles Crehore, 1910-1979, donor.
Platt, Geoffrey, donor.
Platt, Geoffrey, Mrs., donor.
Rosin, Axel, 1907-2007, donor.
Tucker, Michael, Mrs., donor.