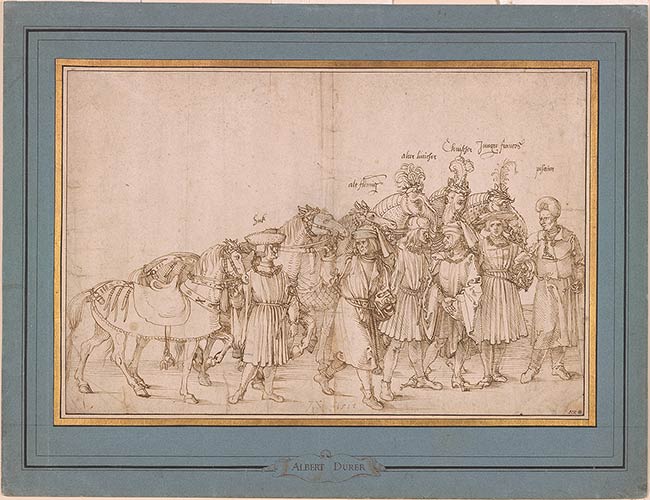 Stablemen of Various Nations
Pen and brown ink on paper, laid down on a Mariette mount.
11 1/4 x 16 15/16 inches (285 x 430 mm)
Purchased by Pierpont Morgan (1837-1913) in 1909.
Inscription:
Inscribed with the artist's monogram at lower center and dated, "1517"; inscribed above figures, "huk alt flemig alter lüticher Cleuischer Junger francos pehaim". Cartouche on Mariette mount lettered, "Albrecht Durer".
Provenance:
Pierre-Jean Mariette (Lugt 2097); his sale, Paris, 1775, part of lot 892 ("Six Chevaux caparaconnes & conduits par la bride par autant de Palefreniers, & un autre Suject de trois Cavaliers, a la plume."); John MacGowan (Lugt 1496); Sir John Charles Robinson (Lugt 1433); Charles Fairfax Murray (1849-1919), London and Florence; from whom purchased through Galerie Alexandre Imbert, Rome, in 1909 by Pierpont Morgan (1837-1913), New York (no mark; see Lugt 1509); his son, J. P. Morgan, Jr. (1867-1943), New York.
Bibliography:
Collection J. Pierpont Morgan : Drawings by the Old Masters Formed by C. Fairfax Murray. London : Privately printed, 1905-1912, I, 255. repr.
Notes:
This drawing is in the distinctive blue mat of Pierre-Jean Mariette, who recognized the connection between the sheet and the celebrated series of woodcuts showing the Triumphal Procession of Emperor Maximilian I (1507-18). A monumental project executed by a group of artists in the emperor's circle, the print series was left incomplete at the time of Maximilian's death. In 1741 Mariette acquired a set of these extremely rare prints, which inspired him to create a written study about their creation. He was convinced that Dürer was the author of the present sheet and responsible for the design of the print series. Scholars now believe that this drawing, depicting figures from the prints, was made by an artist in Dürer's circle and that the monogram is not authentic. - Exhibition Label, from "Pierre-Jean Mariette and the Art of Collecting Drawings."
Formerly attributed to Hans Burgkmair, 1473-1531.
Associated names:
Burgkmair, Hans, 1473-1531, Formerly attributed to.
Mariette, Pierre Jean, 1694-1774, former owner.
MacGowan, John, -1803, former owner.
Robinson, John Charles, Sir, 1824-1913, former owner.
Murray, Charles Fairfax, 1849-1919, former owner.
Morgan, J. Pierpont (John Pierpont), 1837-1913, former owner.