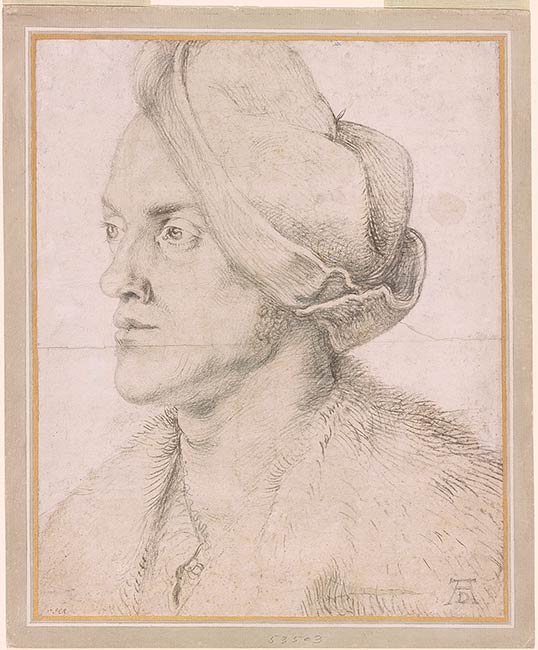 Portrait of the Artist's Brother Endres
Brown and black chalk, on laid paper, background later washed with white lead. Adhered overall to decorative mount.
12 3/4 x 10 5/16 inches (324 x 262 mm)
Gift of Mrs. Alexander Perry Morgan in memory of Alexander Perry Morgan.
Inscription:
Inscribed with monogram in black chalk by another hand at lower right.
Provenance:
Samuel Rogers; (his sale, London, Christie's, 28 April - 19 May 1856, lot 884); Marquis of Breadalbane; Sir John Charles Robinson (Lugt 1433); sale, London, Christie's, 12 May 1902, lot 111; Junius S. Morgan; Alexander P. Morgan.
Bibliography:
Dürer in America, exhibition catalogue edited by Charles W. Talbot, National Gallery of Art, Washington, D. C., 1971, no. XXVI,l repr. (includes previous bibliography and exhibitions).
Walter S. Strauss, The Complete Drawings of Albrecht Dürer, New York, 1974, III, 1734.
Ryskamp, Charles, ed. Seventeenth Report to the Fellows of the Pierpont Morgan Library, 1972-1974. New York : Pierpont Morgan Library, 1976, p. 160.
Dervaux, Isabelle. Drawing connections: Baselitz, Kelly, Penone, Rockburne, and the old masters. New York: Morgan Library & Museum, 2007, p. 30-31 (repr.)
Notes:
Watermark: crown (cf. Briquet 4921 and 4922).
This is a portrait of Dürer's younger brother Endres (1484-1555), who can be identified by comparison with a portrait drawing of him at the Albertina in Vienna. While the Vienna portrait, dated and inscribed, shows Endres on his thirtieth birthday, this drawing, which is more stylized, seems to have been made slightly later. The white heightening of the background is probably a later addition. -- Exhibition Label, from "Life Lines: Portrait Drawings from Dürer to Picasso."
Associated names:
Rogers, Samuel, former owner.
Breadalbane, Marquis of, former owner.
Robinson, J. C. (John Charles), Sir, 1824-1913
Morgan, Junius Spencer, former owner.
Morgan, Alexander P., former owner.
Morgan, Alexander Perry, Mrs., former owner.