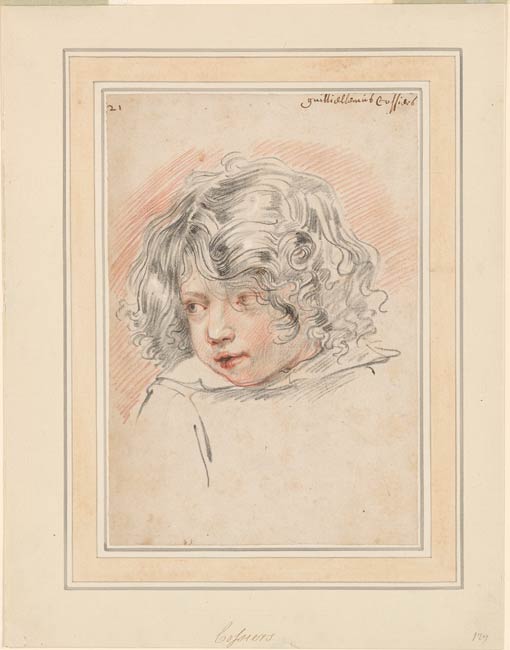 Portrait of the Artist's Son Guilliellemus
Black and red chalk, white chalk; with pen and brown ink, on laid paper adhered to a decorative mount.
10 9/16 x 7 3/16 inches (268 x 183 mm)
Purchased by Pierpont Morgan (1837-1913) in 1909.
Inscription:
Numbered and inscribed, probably in the artist's hand, at upper left, in brown ink, "21"; at upper right, "Guilliellemus Cossiers". Inscribed on old mount, at center, in brown ink, "Cossiers"; at lower right corner, in graphite, "129". Variously inscribed on verso of mount, at upper right, in brown ink, "P No[o superscript] 84"; at lower right, in graphite, "No. 3"; still lower on verso of mount, in three different old hands, in graphite, the first line partly erased, "Four heads by Cossiers done with great Freedom and / Spirit allmost equal to Rubens W. Something French in them A little like Greuze. M. / All very fine. Ph."; farther below in Farifax Murray's hand, in graphite, "given me by JCR".
Provenance:
Henry Temple, second Viscount Palmerston (1739-1802); Henry John Temple, third Viscount Palmerston (1784-1865); probably his stepson, William Francis Cowper-Temple, Baron Mount-Temple (1811-1888); his nephew, the Right Honorable Evelyn Ashley (1836-1907), biographer of second Viscount Palmerston, Ashley's sale [collection of second Viscount Palmerston], London, Christie's, 24 April 1891, one of five in lot 129 (to Robinson for £2.10.0); Sir John Charles Robinson (no mark; see Lugt 1433); Charles Fairfax Murray (1849-1919), London and Florence; from whom purchased through Galerie Alexandre Imbert, Rome, in 1909 by Pierpont Morgan (1837-1913), New York (no mark; see Lugt 1509); his son, J. P. Morgan, Jr. (1867-1943), New York.
Bibliography:
Collection J. Pierpont Morgan : Drawings by the Old Masters Formed by C. Fairfax Murray. London : Privately printed, 1905-1912, I, 248, repr.
Stampfle, Felice, with the assistance of Ruth S. Kraemer and Jane Shoaf Turner. Netherlandish Drawings of the Fifteenth and Sixteenth Centuries and Flemish Drawings of the Seventeenth and Eighteenth Centuries in the Pierpont Morgan Library. New York : Pierpont Morgan Library, 1991, p. 118, no. 264 (repr.)
Notes:
Watermark: coat of arms, surmounted by a crown and partly surrounded by laurel leaves, partly legible through lining (similar to but much smaller than Heawood 565).
Guilliellemus (William) was one of the six sons of Cossiers and his second wife, Marie. Although Cossiers is not particularly known as a portraitist, this drawing is part of a series, dated 1658, showing all his children in three-quarter profile with their names inscribed at upper right. The effect of the economic use of red and black chalk is particularly striking. While Cossiers carefully rendered his son's features, the hair is drawn much more vigorously, resulting in an almost abstract swirl of lines. -- Exhibition Label, from "Life Lines: Portrait Drawings from Dürer to Picasso."