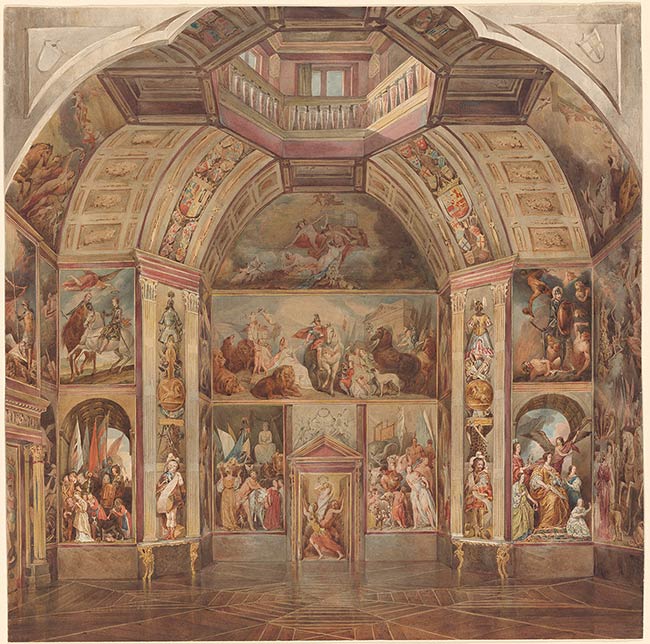 North Wall of the Oranjezaal, Huis ten Bosch, The Hague
Watercolor, ruled pen lines and gum arabic, over graphite, on paper.
17 3/16 x 17 7/16 inches (436 x 442 mm)
Purchased on the Sunny Crawford von Bülow Fund 1978.
Provenance:
Acquired from Galerie Biedermann, Munich.
Bibliography:
Ryskamp, Charles, ed. Twenty-First Report to the Fellows of the Pierpont Morgan Library, 1984-1986. New York : Pierpont Morgan Library, 1989, p. 324-325.
Notes:
Watermark: none.
This drawing depicts the Oranjezaal in the Huis ten Bosch, a moated 17th-century chateau located just outside The Hague. This watercolor is from a series that was almost certainly part of a royal commission given to Bruining c. 1860 by Queen Sophie of the Netherlands (1818-77). In accordance with her custom of ordering watercolors of all the residences she had occupied, she commissioned Bruining to produce a series of nine detailed studies of the Oranjezaal, now all in the Koninklijk Huisarchief, The Hague. This drawing, which entered the collection with two related works (see also 1985.50:2 and 1985.50:3), along with a fourth in the collection of Eugene V. and Clare Thaw, is without doubt by the same hand as the nine drawings in the royal archive and probably was part of the same project.
Instead of recording adjacent paintings on each wall of the four arms of the cross-shaped room, Bruining has depicted the views that he saw from his position in the center of the room, as he faced north, south, east, and west. In representing his overall impression of the great hall, rather than faithfully copying each canvas, Bruining has considerably exaggerated the height of the room.