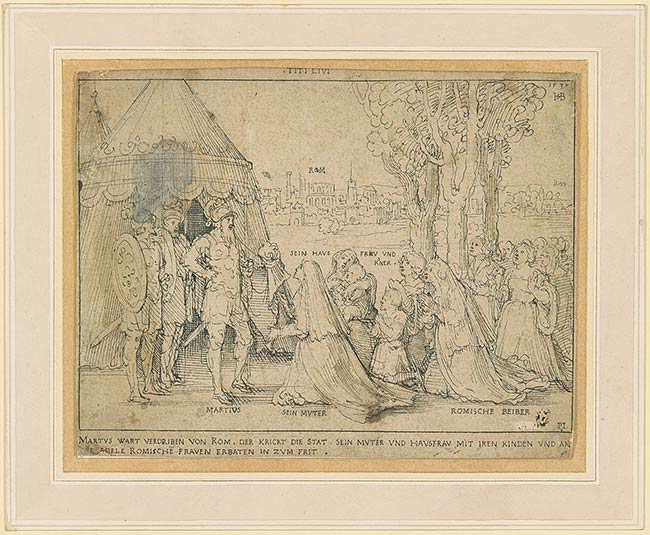 Coriolanus and the Women of Rome. Scene from Livy's "Roman History"
Pen and black ink, with brown wash, on paper.
5 3/4 x 7 3/8 inches (146 x 188 mm)
Purchased by Pierpont Morgan (1837-1913) in 1909.
Inscription:
Signed with the artist's monogram and dated at upper left in pen and black ink, "1537"; inscribed variously in pen and black ink, "ROM"; "SEIN HAVS"; "FRAV VND KINER"; "MARTIVS"; "SEIN MVTER"; "ROMISCHE BEIBER". Inscribed at upper center in pen and black ink, "TITI LIVI"; along lower margin in pen and black ink, "MARTVS WART VERDRIBEN VON ROM. DER KRICKT DIE STAT. SEIN MVTER VND HAVSFRAV MIT IREN KINDEN VND AN/[DRE] EDELE ROMISCHE FRAVEN ERBATEN IN ZVM FRIT."
Watermark: none.
Provenance:
Sir Peter Lely (Lugt 2092); Joseph Gulston (1744(?)-1786), Ealing Grove, London (formerly pseudo-Crozat; Lugt 474); John Charles Robinson (Lugt 1433); Charles Fairfax Murray (1849-1919), London and Florence; from whom purchased through Galerie Alexandre Imbert, Rome, in 1909 by Pierpont Morgan (1837-1913), New York (no mark; see Lugt 1509); his son, J. P. Morgan, Jr. (1867-1943), New York.
Bibliography:
Collection J. Pierpont Morgan : Drawings by the Old Masters Formed by C. Fairfax Murray. London : Privately printed, 1905-1912, I, 260, repr.
Associated names:
Lely, Peter, Sir, 1618-1680, former owner.
Robinson, J. C. (John Charles), Sir, 1824-1913, former owner.
Murray, Charles Fairfax, 1849-1919, former owner.
Morgan, J. Pierpont (John Pierpont), 1837-1913, former owner.
Livy. Ab urbe condita.