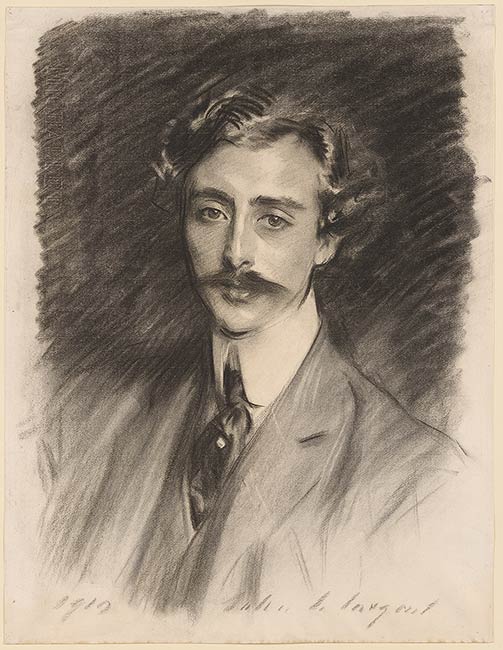 Portrait of Ernest Schelling (1876-1939)
24 3/8 x 18 3/4 inches (620 x 475 mm)
Gift of Mrs. János Scholz.
Inscription:
Signed and dated by the artist in charcoal along the bottom edge, "1910 John S. Sargent".
Provenance:
Ernest Schelling; Helen Schelling Scholz (Mrs. János Scholz).
Bibliography:
Pierpont Morgan Library. Review of Acquisitions, 1949-1968. New York : Pierpont Morgan Library, 1969, p. 169.
Adams, Frederick B., Jr. Fourteenth Annual Report to the Fellows of the Pierpont Morgan Library, 1965 & 1966. New York : Pierpont Morgan Library, 1967, p. 133.
Notes:
Ernest Schelling was an internationally distinguished American pianist, composer, and conductor. He sat twice to Sargent in the midst of a taxing performance schedule in 1910. Sargent noted that during the sitting, the pianist was "in a condition of total collapse... [but] fortunately his looks held their own." The portrait exemplifies Sargent's deft handling of charcoal, as in the swift, firm strokes that animate Schelling's hair. To create the bright white collar, Sargent left the paper in reserve. Highlights, like those on Schelling's nose and forehead, were often made by using pellets of bread as an eraser to remove excess charcoal. The watermark MICHALLET is visible in the upper left corner, indicating that this is a handmade French paper. -- Exhibition Label, from "John Singer Sargent: Portraits in Charcoal"
Associated names:
Schelling, Ernest, 1876-1939, former owner.
Scholz, János, Mrs., former owner.