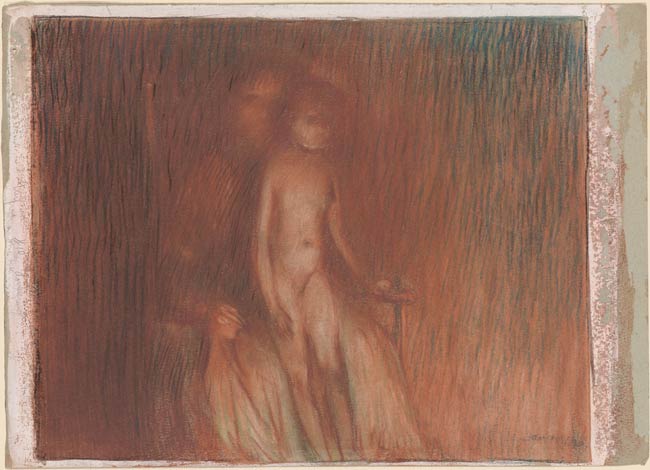 Mother and Child before a Fire. Verso: Studies of Women Bathing
Pastel, largely in reds and blues, on gray-blue paper; verso: black, red, and blue pastel.
10 7/8 x 15 inches (27.6 x 38.1 cm)
Gift of Mrs. Flora S. Straus in memory of Hugh Grant Straus.
Inscription:
Signed in pencil at lower right, "Davies"; dated below signature in another pencil, "1893".
Notes:
Watermark: none.
An important figure in American art of the late nineteenth-early twentieth century, Davies is perhaps best known as one of the leading organizers of the 1913 Armory Show exhibition that introduced progressive European art to America. Although he is associated with the Ashcan School of artists, with whom he showed in the 1908 exhibition "The Eight," in his own art, Davies remained indebted to the classical tradition.The subjects of this drawing -- both recto and verso -- attest to the inspiration he took from European Symbolist artists such as Puvis de Chavannes.