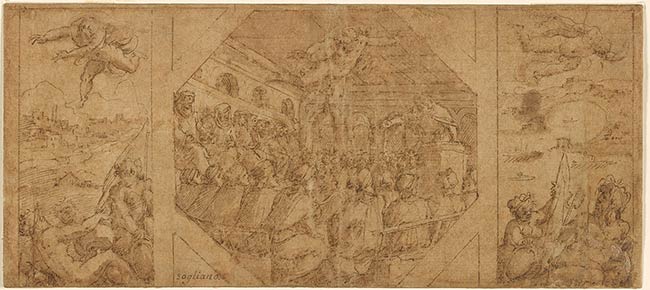 Design for the Ceiling of the Sala Grande of the Palazzo Vecchio, Florence
Pen and brown ink and wash, on paper darkened to a light brown.
3 13/16 x 8 5/8 inches (97 x 219 mm)
Inscription:
Inscribed, just left of lower center, in pen and brown ink, "sogliano."; on verso, in graphite, "Eleve de fra Bartolomé de s.t [t superscript] marc.~ 10"; and at center, in black chalk, "3".
Provenance:
Purchased in Avignon in 1951 by János Scholz, New York (no mark; see Lugt S. 2933b).
Description:
Previously given to Sogliani, the drawing was attributed to Vasari by Philip Pouncey (unpublished opinion, 1958). It is a study for three of the ceiling compartments of the Sala Grande, also known as the Salone dei Cinquecento, in the Palazzo Vecchio, decorated by Vasari and his workshop in the years 1563 to 1566. The central scene represents Antonio Giacomini exhorting the Florentines to declare war on Pisa and is almost identical to the corresponding scene on the ceiling. In another drawing – also in the Morgan's collection – Vasari made a further study of one of the Florentine patricians seated in the foreground of this composition.1 As painted, the ceiling shows the scenes of the Victory at Cascina and the Victory at Vicopisano flanking the scene of the Harangue of Antonio Giacomini at right and left respectively: battle scenes rather than the allegories of the Morgan drawing.
As Günther Thiem first observed, the Morgan sketches once formed part of what Vasari called a cartone grande, a large drawing approximately 750 x 305 mm.2 Other fragments of the massive scheme survive. Six of them are now in the Uffizi, Florence, and another two are preserved in the Harvard Art Museums, Cambridge.3 As Thiem noted, the cartone grande was not a cartoon in the typical sense, but rather a demonstration drawing presented to Duke Cosimo I de' Medici in Pisa between 10 and 12 April 1563. Vasari along with his iconographic advisor, Vincenzo Borghini, designed the ceiling's scheme with active input from Cosimo I. The cartone grande was submitted for the duke's approval after he had rejected an initial program.4 The component scenes, such as the present example, were subsequently cut from the larger drawing and recombined into new arrangements as the project underwent further revisions at the patron's behest. The painting campaign undertaken by Vasari and his workshop began on 1 August 1563 and was officially unveiled on 21 December 1565, on the occasion of Francesco I de' Medici's marriage to Johanna of Austria.
Footnotes:
Morgan Library & Museum, New York, inv. 1965.6.
Thiem 1968, 101-04.
Uffizi, Florence, inv. 961-964 S, 1490 O, 1490 bis O; Harvard Art Museums, Cambridge, inv. 1932.157 A and B. See Hӓrb 2015, 442-449, nos. 279-286.
For a more complete summary of the ceiling's design, see Hӓrb 2015, 432-41, with previous literature.
Bibliography:
Selected references: Oakland and Berkeley 1961, no. 98; Milwaukee 1964, no. 39; Thiem 1968, 144 (as Naldini); Pillsbury 1976, 128-29; Thiem 1976, 270-71 (as Naldini); Allegri and Cecchi 1980, 253, no. 27-28; Fellows Report 1989, 385; Florence 2000, 48, no. 16; Härb 2015, 444, 447, no. 285.
Drawings from Tuscany and Umbria, 1350-1700. Mills College Art Gallery, Oakland, University of California Art Gallery, Berkeley. Berkeley : Gillick, 1961, no. 98.
Edmund Pillsbury, "The Sala Grade Drawings by Vasari and His Workshop: Some Documents and New Attributions, " Master Drawings, XIV, no. 2, 1976, 128, pl. 3.
Ryskamp, Charles, ed. Twenty-First Report to the Fellows of the Pierpont Morgan Library, 1984-1986. New York : Pierpont Morgan Library, 1989, p. 385.
Notes:
Watermark: none visible through lining.
Associated names:
Sogliani, Giovanni Antonio, 1492-1544, Formerly attributed to.
Scholz, János, former owner.