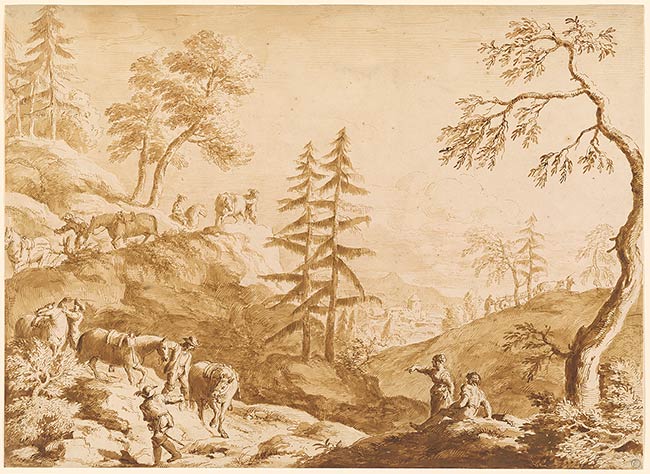 Landscape with Trees and Horses Being Led Down a Path
Pen and brown ink and wash, over black chalk, on laid paper.
13 1/8 x 18 1/8 inches (333 x 460 mm)
Purchased by Pierpont Morgan (1837-1913) in 1909.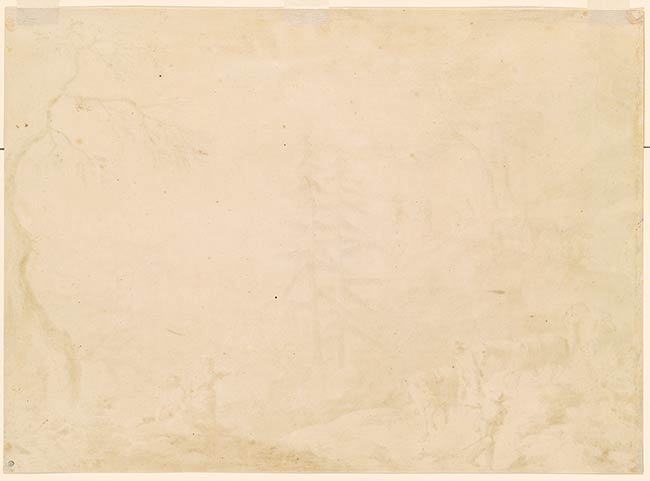 Provenance:
Sir Charles Greville (1763-1836), English army officer (Lugt 549); George Guy Greville, 4th Earl of Warwick (Lugt 2600); probably his sale, London, Christie's, 20-21 May 1896; Charles Fairfax Murray (1849-1919), London and Florence; from whom purchased through Galerie Alexandre Imbert, Rome, in 1909 by Pierpont Morgan (1837-1913), New York (no mark; see Lugt 1509); his son, J. P. Morgan, Jr. (1867-1943), New York.
Notes:
The landscape tradition to which Marco Ricci belonged originated in Venice with the work of such Renaissance painters as Giorgione and Titian. A peripatetic artist, Ricci would nevertheless also have been aware of works by later artists from elsewhere in Italy and even north of the Alps--as is apparent from this sheet, the composition of which is indebted to Dutch art of the seventeenth century.--Exhibition Label, from "Tiepolo, Guardi, and Their World: Eighteenth-Century Venetian Drawings"
Associated names:
Greville, Charles, 1762-1832, former owner.
Warwick, George Guy Greville, Earl of, 1818-1893, former owner.
Murray, Charles Fairfax, 1849-1919, former owner.
Morgan, J. Pierpont (John Pierpont), 1837-1913, former owner.