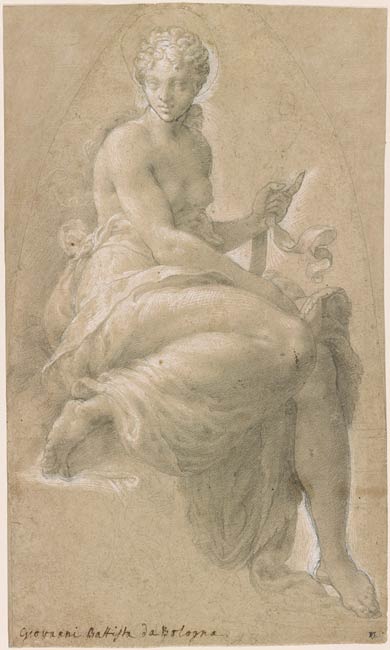 Black chalk, with opaque white, on light gray-brown laid paper.
12 x 7 inches (304 x 177 mm)
Purchased as the gift of the Fellows.
Inscription:
Inscribed at lower left in pen and brown ink over an earlier inscription in chalk, "Giovanni Battista da Bologna"; in pencil and ink at lower right, "Rugiero del'Abati".
Provenance:
Possibly William Gibson; Sir Peter Lely (Lugt 2092); sale, Sotheby's, London, 22 February 1961, no. 33 (one of four drawings); H.M. Calmann, Ltd., London.
Bibliography:
Denison, Cara D. French Master Drawings in the Pierpont Morgan Library. New York : Pierpont Morgan Library, 1993, no. 7, repr.
Adams, Frederick B., Jr., comp. Eleventh Report to the Fellows of the Pierpont Morgan Library, 1961. New York : Pierpont Morgan Library, 1961, p. 75-8, repr.
Notes:
Watermark: none.
Anonymous, Italian or French School, 16th cent.; formerly School of Fontainebleau, mid-16th cent.
The artist has made a change in the head by pasting a second version over the first.
Formerly attributed to Francesco Primaticcio (1504-1570) and Niccolò dell'Abate (1509-1571). Diana Dethloff has suggested that the inscription on the verso is possibly in the hand of William Gibson, a miniature painter and drawings dealer who also worked in Peter Lely's studio. He is known to have made such inscriptions on the verso of drawings that passed through him. She noted as well that the inscription "S 5" is probably a pricing code that has not been deciphered. Such an inscription amounts almost to a collector's mark.
Associated names:
Anonymous, French School, 16th cent., Alternate attribution.
Primaticcio, Francesco, 1504-1570, Formerly attributed to.
Abate, Nicolò dell', approximately 1509-1571, Formerly attributed to.
Gibson, William, 1644 or 1645-1702, former owner.
Lely, Peter, Sir, 1618-1680, former owner.