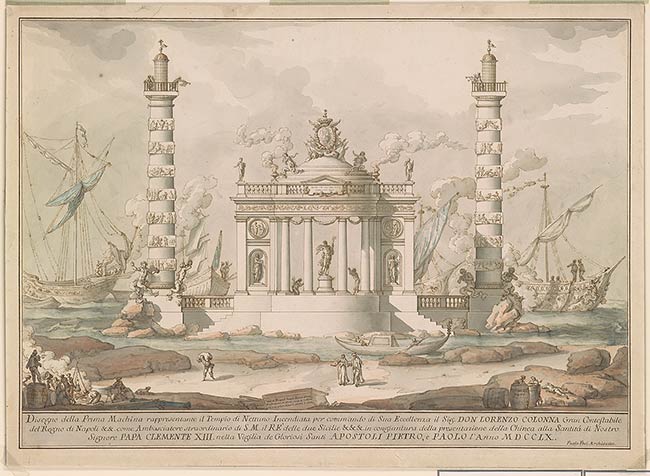 Design for the First Pyrotechnic Machine for the Festival of the Chinea of 1760: The Temple of Neptune
Pen and brown ink, with watercolor, on paper.
15 7/8 x 22 inches (403 x 558 mm)
Purchased as the gift of the Fellows.
Inscription:
Signed at lower right of border, in pen and brown ink, "Paolo Posi Architetto"; inscribed on ruin in center foreground, in pen and brown ink, "Crede di Priapo il Tempio Elian divoto, / Ma Nettuno vi trova; onde di rabbia / Va sul solito Altar' a sciorre il voto"; inscribed within border, in pen and brown ink, "Disegno della Prima Machina rappresentante il Tempio di Nettuno Incendiata per commando di Sua Eccellenza il Sig. DON LORENZO COLONNA Gran Contestabile / del Regno di Napoli &.&. come Ambasciatore straordinario di S.M. il RE' delle due Sicilie &.&.&. in congiunture della presentazione della Chinea alla Santitá di Nostro / Signore PAPA CLEMENTE XIII. nella Vigilia de Gloriosi Santi APOSTOLI PIETRO, e PAOLO l'anno MDCCLX".
Bibliography:
Adams, Frederick B., Jr., comp. Twelfth Report to the Fellows of the Pierpont Morgan Library, 1962. New York : Pierpont Morgan Library, 1963, p. 88-89.
Pierpont Morgan Library. Review of Acquisitions, 1949-1968. New York : Pierpont Morgan Library, 1969, p. 161.
Notes:
Engraved by Giuseppe Vasi.
Associated names:
Calmann, Hans M., former owner.