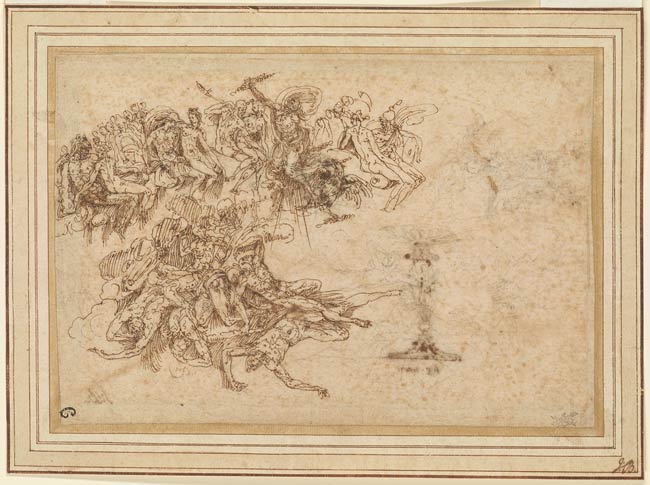 The Defeat of the Giants (Ovid's "Metamorphoses"). Verso: Cup and Two Figures
Pen and brown ink, graphite, and black chalk, on laid paper; verso: pen and brown ink, and black chalk.
7 1/8 x 10 5/16 inches (181 x 262 mm)
Purchased by Pierpont Morgan (1837-1913) in 1909.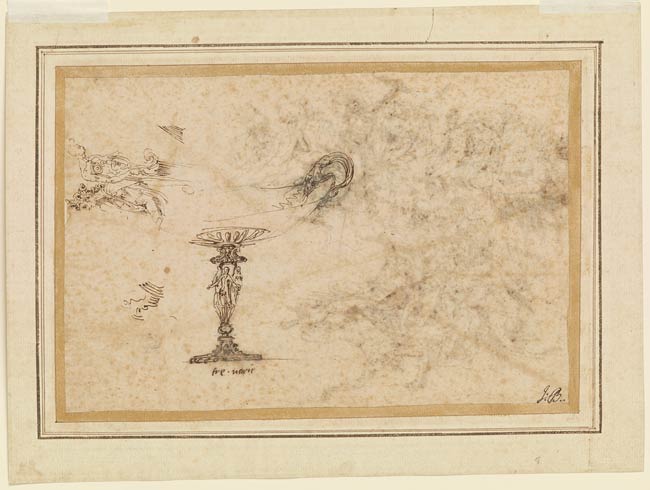 Inscription:
Inscribed on verso, beneath the cup, in pen and brown ink, by the artist, "tre varie".
Watermark: Rampant lion holding a shield, inside a circle.
Provenance:
Possibly Niccolo Gaddi, Florence; Pseudo-Crozat (Lugt S. 474); Jonathan Richardson Sr., London (1665-1745; Lugt 2183); John Barnard, London (d.1784; Lugt 1419); Sir Thomas Lawrence, London (1769-1830; Lugt 2445); Brooke sale, London, Sotheby, Wilkinson and Hodge, 20 June 1891, lot 216, as Benvenuto Cellini, "Studies for Ornaments and Figure; The Fall of the Giants"; Charles Fairfax Murray (1849-1919), London and Florence; from whom purchased through Galerie Alexandre Imbert, Rome, in 1909 by Pierpont Morgan (1837-1913), New York (no mark; see Lugt 1509); his son, J. P. Morgan, Jr. (1867-1943), New York.
Bibliography:
Collection J. Pierpont Morgan : Drawings by the Old Masters Formed by C. Fairfax Murray. London : Privately printed, 1905-1912, I, 33 and 34, repr. (as Benvenuto Cellini)
Stampfle, Felice, and Jacob Bean. Drawings from New York collections. I: The Italian Renaissance. New York : Metropolitan Museum of Art : Pierpont Morgan Library, 1965, 112, recto repr.
Notes:
Formerly attributed to Benvenuto Cellini, 1500-1571.
Study for one of a series of plaques representing moralising scenes from Ovid's "Metamorphoses", originally cast in bronze, ca. 1535-1615, for Guglielmo della Porta by Jacob Cobaert, called Coppe Fiammingo. The only complete series of sixteen plaques in bronze is in the Kunsthistorisches Museum, Vienna. Originally the plaques may have been designed for a table for Cardinal Alessandro Farnese and placed in the Sala dei Filosofi, a room used as a library, in the Palazzo Farnese, Rome. This commission was later withdrawn and given to Giacomo Barozzi da Vignola.
Associated names:
Cellini, Benvenuto, 1500-1571, Formerly attributed to.
Gaddi, Niccolo, former owner.
Pseudo-Crozat, former owner.
Richardson, Jonathan, 1665-1745, former owner.
Barnard, John, 1709-1784, former owner.
Lawrence, Thomas, Sir, 1769-1830, former owner.
Murray, Charles Fairfax, 1849-1919, former owner.
Morgan, John Pierpont, 1837-1913, former owner.
Ovid, 43 B.C.-17 or 18 A.D. Metamorphoses.