Head of an Old Man with White Beard, Turned to the Right
Colored chalks, dampened and stumped, on paper.
10 3/4 x 7 3/8 inches (274 x 188 mm)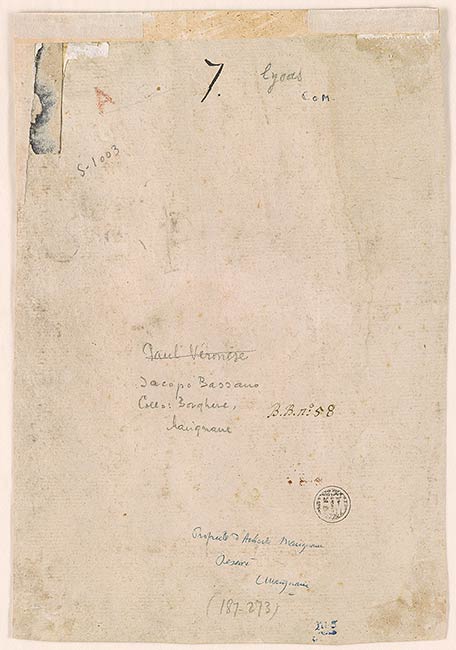 Inscription:
Inscribed at lower right, in pen and brown ink, "Bassano"; on verso, at upper left, in red chalk, "A"; at upper center, in pen and black ink, "7'.; below, in charcoal "(?), S P"; in pen and dark brown ink, "B.B. n:o58"; in pen and black ink, "COM"; in graphite, "S. 1003; lyons; com; Paul Véronèse (cancelled); (187-273)"; at lower right in blue ball point pen, "Propriété d'Hubert Marignane / Reservé / Marignane".
Provenance:
"Borghese"-Sagredo, Venice (?) (inscription on verso Lugt 2103a); Maurice Marignane (b. 1879), Paris (Lugt 1872); Hubert Marignane (b. 1921) (Lugt Suppl. 1343a); purchased in Geneva in 1956 by János Scholz (1903-1993), New York (see Lugt Suppl. 2933b) (according to János Scholz records).
Bibliography:
Scholz 1959, no. 5, repr.
Scholz 1963-64, no. 10.
Oberhuber, Konrad, and Dean Walker. Sixteenth Century Italian Drawings From the Collection of János Scholz. Washington, D.C. : National Gallery of Art ; New York : Pierpont Morgan Library, 1973, no. no. 108, repr. (includes previous bibliography and exhibitions).
Ryskamp, Charles, ed. Seventeenth Report to the Fellows of the Pierpont Morgan Library, 1972-1974. New York : Pierpont Morgan Library, 1976, p. 151.
Scholz, Janos. Italian Master Drawings, 1350-1800, from the János Scholz Collection. New York : Dover, 1976. no. 56, repr.
Notes:
Watermark: anchor in circle, curmounted by leaves (not visible to the naked eye).
Irregularly trimmed.