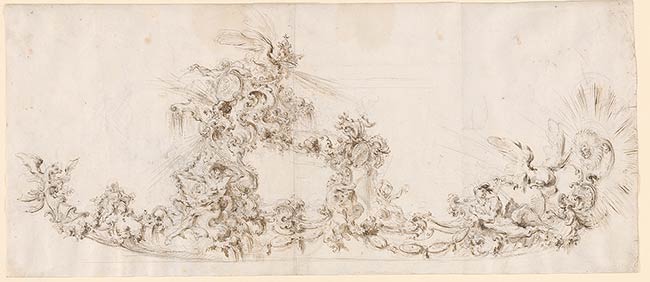 Giovanni Battista Piranesi
Design for a ceremonial gondola. Verso: Sketches for ornament and a decorative frame
Pen and brown ink and wash, over black chalk, on laid paper; verso: pen and black ink, red and black chalk.
11 11/16 x 26 7/8 inches (297 x 683 mm)
Bequest of Junius S. Morgan and the gift of Henry S. Morgan.
Inscription:
Watermark: Bow and arrow. Briquet 738. Same as 1966.11:9, 1966.11:11 and 1966.11:12.
Provenance:
Mrs. J. P. Morgan, New York; by descent to her sons Junius S. Morgan, Princeton and Paris (no mark, see Lugt 1536) and Henry S. Morgan, New York.
Bibliography:
Denison, Cara, Myra Nan Rosenfeld, and Stephanie Wiles. Exploring Rome : Piranesi and His Contemporaries. New York : Pierpont Morgan Library; Montréal : Centre Canadien d'Architecture, 1993, no. 21, repr.
100 Master drawings from the Morgan Library & Museum. München : Hirmer, 2008, no. 31, repr. [Kurt Zeitler]
Notes:
The Marriage of Venice to the Sea ceremony was an annual celebration of Venetian maritime power. A procession of boats, which included large ceremonial gondolas known as bissone, escorted the doge in the magnificent bucintoro, a massive galley propelled by 168 oarsmen. This design for a bissona employs the elaborate Rococo style favored for Venetian interiors and decorative objects in the first half of the eighteenth century. There is no evidence that it was ever realized, but Piranesi reused much of the decorative language--including shells, satyrs, a spread wing, medallions, and crowns--in his Grotteschi etchings. Moreover, he turned the center of the bissona into the horse-drawn coach that appears in the foreground of the Piazza San Pietro that he created for the Veduta di Roma series around 1748.
Associated names:
Morgan, Jane Norton, 1868-1925, former owner.
Morgan, Junius Spencer, 1892-1960, former owner.
Morgan, Henry S. (Henry Sturgis), 1900-1982, former owner.