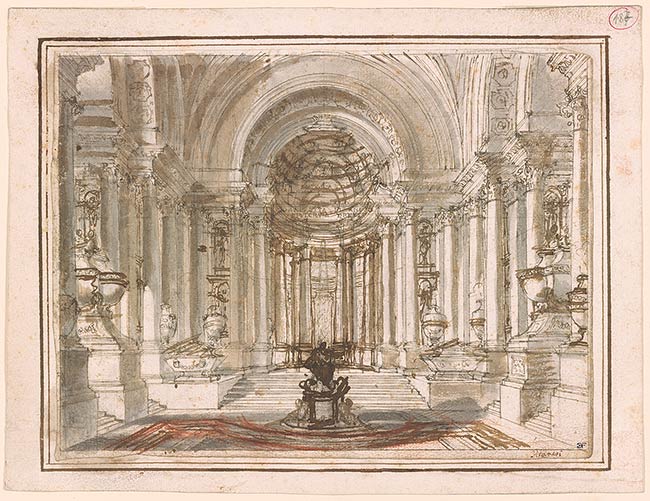 Giovanni Battista Piranesi
A church interior with tombs, urns, and a freestanding monument
ca. 1742-1743, with later reworking
Pen and brown ink and brown and gray wash, with black and red chalk and compass incisions on laid paper.
7 5/16 x 9 11/16 inches (187 x 246 mm)
Purchased as the gift of the Fellows.
Inscription:
Inscribed by the artist, across the architrave, in pen and brown ink, "IMPERATOR / ... / IOANES BTTA PIRANESI / SEPULCRUM EREXIT."; at lower right, "Piranesi". On verso, "B.P.L. No. 124" and "N. 27"
Watermark: none.
Provenance:
Edmond Fatio, Geneva; his sale, Geneva, 3-4 June 1959, lot 203.
Bibliography:
Pierpont Morgan Library. Review of Acquisitions, 1949-1968. New York : Pierpont Morgan Library, 1969, p. 160.
Adams, Frederick B., Jr. Tenth Annual Report to the Fellows of the Pierpont Morgan Library. New York : Pierpont Morgan Library, 1960, p. 59.
Denison, Cara, Myra Nan Rosenfeld, and Stephanie Wiles. Exploring Rome : Piranesi and His Contemporaries. New York : Pierpont Morgan Library; Montréal : Centre Canadien d'Architecture, 1993, no. 27, repr.
Notes:
With later retouching by the artist.
The architectural framework of this interior seems to have been inspired by Andrea Palladio's church of the Redentore in Piranesi's native Venice, though the space has been amplified by bigger columnar bases, coffering on the arches, and deeper flights of stairs. Piranesi probably created the drawing as an independent architectural fantasy, but it had an afterlife. The design seems to lie behind the "Vestibule of an Ancient Temple" in Piranesi's Prima Parte d'Architettura, and elements such as the screen of columns in the apse reappear in the church of Santa Maria del Priorato, built by Piranesi in the mid-1760s. The artist likely added the heavy lines of brown ink and the red chalk in the foreground long after creating the original drawing, probably when he mounted and signed the sheet around 1760.
Associated names:
Fatio, Edmond, 1871-1959, former owner.