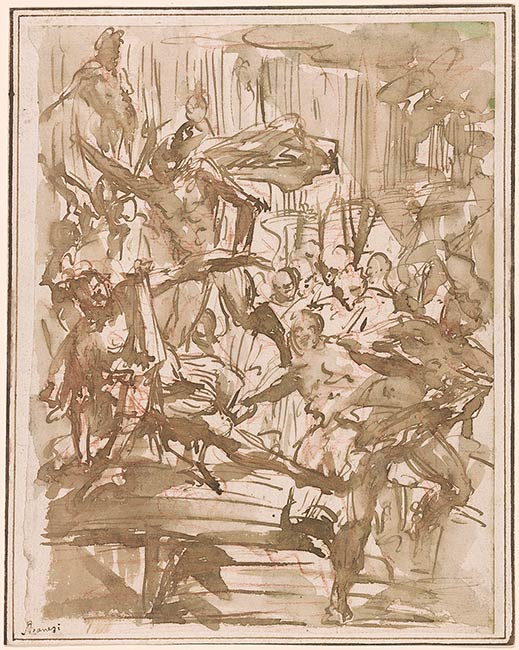 Giovanni Battista Piranesi
Pen and brown ink and wash, over red chalk. Adhered to laid paper overall, 10 x 8 inches (255 x 204 mm).
9 9/16 x 7 5/16 inches (244 x 185 mm)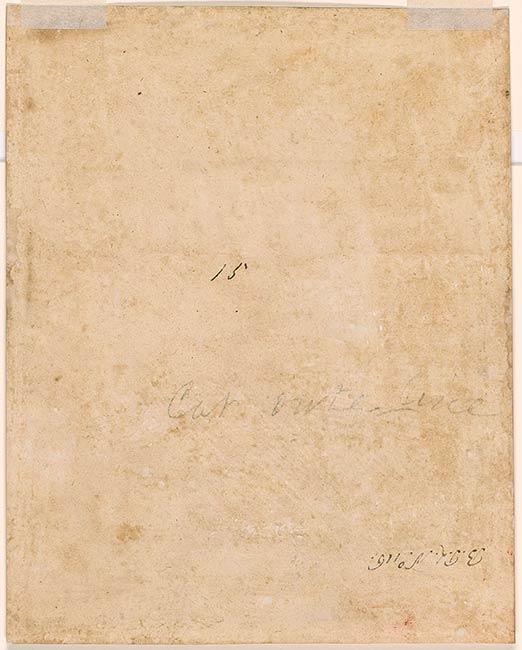 Inscription:
Signed (?) at lower left, aprtly on the mount and partly on the drawing, in pen and brown ink, "Piranesi"; inscribed on verso, in pen and brown ink, "B.P.L.No. 116; numbered at center, "15".
Provenance:
Hans M. Calmann, London; from whom acquired in 1951 by John S. Newberry, New York; sale, New York, Parke-Bernet, 30 March 1961, lot 4; Mr. and Mrs. Eugene V. Thaw, New York.
Bibliography:
Thaw Catalogue Raisonné, 2017, no. 292, repr.
Stampfle, Felice, and Cara D. Denison. Drawings from the Collection of Mr. and Mrs. Eugene V. Thaw. New York : Pierpont Morgan Library, 1975, no. 54.
Ryskamp, Charles, ed. Sixteenth Report to the Fellows of the Pierpont Morgan Library, 1969-1971. New York : Pierpont Morgan Library, 1973, p. 119
Stampfle, Felice. Giovanni Battista Piranesi, Drawings in the Pierpont Morgan Library. New York : Dover, 1978, no. A-3, repr.
Notes:
Watermark: six-pointed star within circle (close to Heawood 3883).
Possibly during his first trip home to Venice in 1744, but more likely in 1745 at the beginning of his second trip, Piranesi drew a number of figural compositions that seem to indicate an experimental phase in his art. The style of these works was inspired not so much by Giovanni Battista Tiepolo, then the leading artist in Venice, as by an older generation of Venetian Baroque masters, such as Antonio Molinari (1655-1704). As with the other drawings in the set, the subject of this scene is not entirely clear, but it is generally read as the assassination of the figure at left, although it is also sometimes described as a Death of Caesar; it could alternately depict the martyrdom of a saint who has refused to pay homage to a pagan idol, if indeed the figure at upper left is a statue. The organization of the scene, with its oblique backdrop of classical columns, resembles some of Veronese's martyrdom altarpieces, whereas the fallen figure recalls Titian's St. Peter Martyr.
This is one of a group of five related drawings. The others are the the Carnival with a Puppet Theater in Hamburg (Hamburger Kunsthalle, inv. 1915-638); the Group of Figures around a Baby in the Ashmolean Museum, Oxford (inv. WA1948.111), sometimes identified as an Adoration of the Magi, although it would be extremely unusual for the infant Christ to be shown lying on the ground; and two drawings in the National Gallery of Art, Washington, the Scherzo with Antique Figures (inv. 2007.111.26) and Battle of Nude Men (2007.111.143).
Associated names:
Calmann, Hans M., former owner.
Newberry, John S. (John Stoughton), 1910-1964, former owner.
Thaw, Eugene Victor, former owner.
Thaw, Clare, former owner.