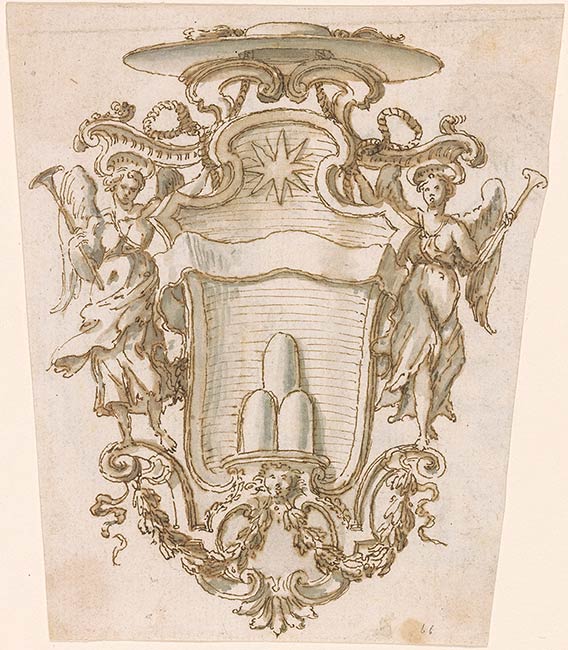 Giovanni Battista Piranesi and workshop
Design for a Bookplate for a Cardinal of the Albani Family. Verso: fragment of design for Cardinal's arms
ca. 1750-1775 (recto), ca. 1746 (verso)
Pen and brown ink, with gray and brown wash, over black chalk, on paper cut to inverted trapezoid; verso: black chalk, with yellow-gray wash.
4 13/16 x 4 1/4 inches (123 x 109 mm)
Bequest of Junius S. Morgan and gift of Henry S. Morgan.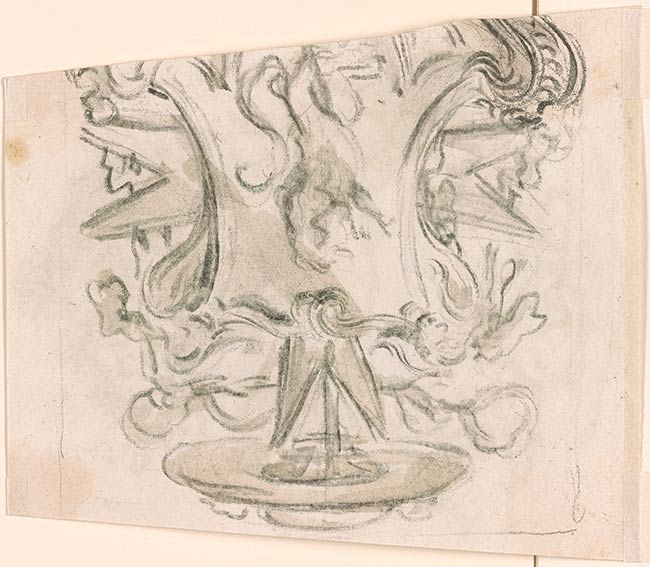 Inscription:
Numbered at lower right, in graphite, "66".
Provenance:
Mrs. J.P. Morgan, New York; by descent to her sons Junius S. Morgan, Princeton and Paris (no mark, see Lugt 1536) and Henry S. Morgan, New York.
Bibliography:
Stampfle, Felice. Giovanni Battista Piranesi, Drawings in the Pierpont Morgan Library. New York : Dover, 1978, no. 127, repr.
Notes:
The coat of arms on the recto, probably not drawn by Piranesi himself, is likely that of Alessandro Albani (1692-1779), who built the Villa Albani, or possibly Gian Francesco Albani (1720-1803). Mario Bevilacqua, in "The Young Piranesi: The Itineraries of His Formation" (2006) recognized that the fragmentary drawing on the verso, which is in Piranesi's own hand, is the coat of arms of Msgr. Martino Innico Caracciolo, and that it was perhaps a study for the title page of the third volume of "L'Architettura di Andrea Palladio," published in 1746 by Piranesi's associate Giorgio Fossati.
On same mat as 1966.11:126.
Summary:
With Albani Arms Surmounted by Cardinal's Hat, Supported by Two Angels with Trumpets on the recto, and with lion rampant surmounted by Cardinal's hat, set over Maltese cross on the verso.
Associated names:
Morgan, Jane Norton, 1868-1925, former owner.
Morgan, Junius Spencer, 1892-1960, former owner.
Morgan, Henry S. (Henry Sturgis), 1900-1982, former owner.