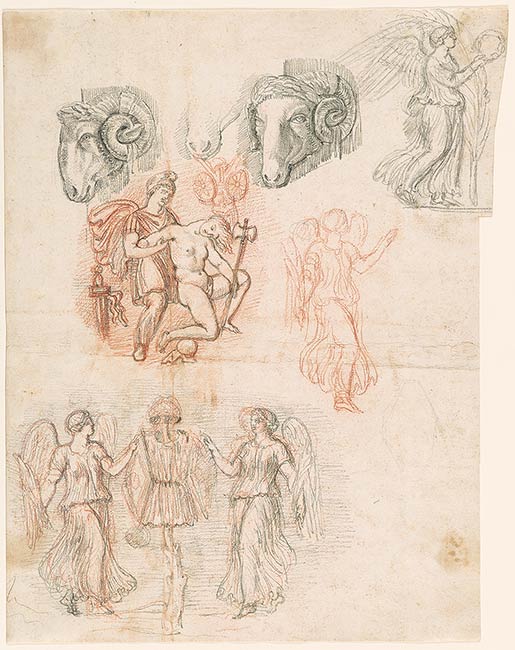 Workshop of Giovanni Battista Piranesi
Studies from the Antique with Rams' Heads, Barbarian Trophies, and Figures of Victory
Red and black chalk on paper, trimmed irregularly along right edge.
18 3/8 x 14 11/16 inches (467 x 374 mm)
Bequest of Junius S. Morgan and gift of Henry S. Morgan.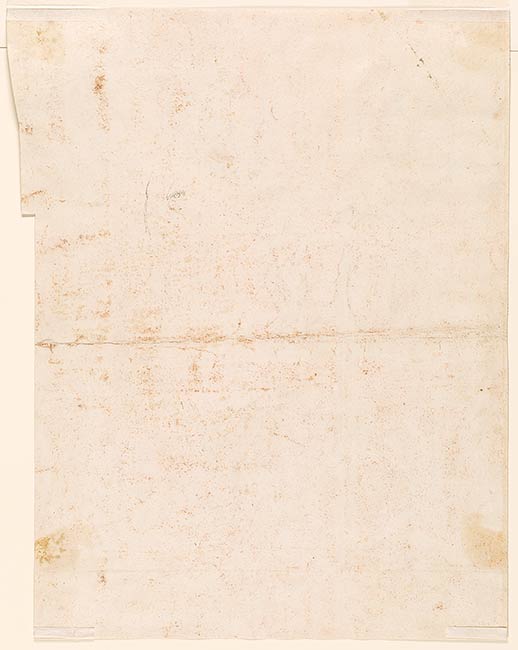 Inscription:
Watermark: Fleur-de-lis inside doube circle, mongram "CB" above, centered on chain line. Same watermark on 1966.11:33.
Provenance:
Mrs. J.P. Morgan, New York; by descent to her sons Junius S. Morgan, Princeton and Paris (no mark, see Lugt 1536) and Henry S. Morgan, New York.
Bibliography:
Stampfle, Felice. Giovanni Battista Piranesi, Drawings in the Pierpont Morgan Library. New York : Dover, 1978, no. 34, repr.
Notes:
This sheet raises many of the questions of attribution that complicate discussion of Piranesi's drawings of antiquities. It is impossible to imagine these lifeless and hesitant sketches as Piranesi's own work: comparing the rams' heads to those in Morgan drawing 1966.11:29, there is a world of difference in the quality of line and the incisiveness of the depiction. These examples must be by a member of Piranesi's studio, making drawings of some of the same models that interested the master.
Associated names:
Morgan, Jane Norton, 1868-1925, former owner.
Morgan, Junius Spencer, 1892-1960, former owner.
Morgan, Henry S. (Henry Sturgis), 1900-1982, former owner.