Giovanni Battista Piranesi
Six Roman Masks. Verso: Mounted Rider with Shield and Spear and Pedimented Niche
Pen and brown ink on paper; verso: black chalk.
8 x 13 7/16 inches (203 x 342 mm)
Bequest of Junius S. Morgan and gift of Henry S. Morgan.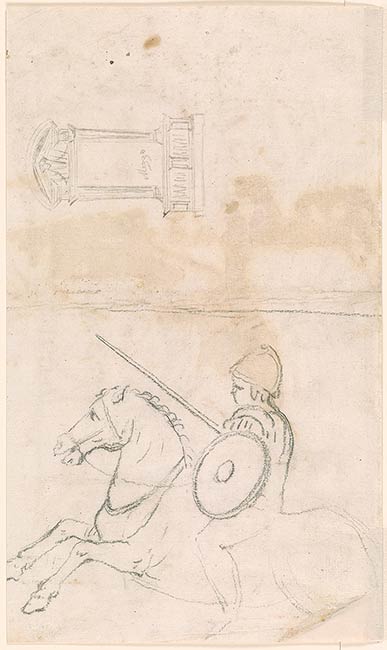 Inscription:
Inscribed with initials at upper right, in graphite, "B.P", with line leading from initials to mask at lower right; inscribed on verso, in within niche, in graphite, "Mezzo".
Provenance:
Mrs. J.P. Morgan, New York; by descent to her sons Junius S. Morgan, Princeton and Paris (no mark, see Lugt 1536) and Henry S. Morgan, New York.
Bibliography:
Denison, Cara, Myra Nan Rosenfeld, and Stephanie Wiles. Exploring Rome : Piranesi and His Contemporaries. New York : Pierpont Morgan Library; Montrǎl : Centre Canadien d'Architecture, 1993, no. 29, repr.
Notes:
Together with 1966.11:44 and 45, these studies, drawn in Piranesi's late style, also date from his time in Pompeii near the end of his life. The masks are akin to the those at the Tomb of the Istacidii, which Piranesi recorded in a drawing now in Copenhagen, but they do not match those exactly and could have been based on any number of masks found in the paintings and mosaics of Pompeii. In the drawing of the six masks, however, one further detail suggests that these may be Piranesian inventions rather than simple copies of ancient works: the mask at lower right--bald, with prominent ears and frowning brows that match Piranesi's own--is annotated in black chalk, "B.P.," Battista Piranesi: the mask seems to be a humorous Pompeiian self-portrait!
Associated names:
Morgan, Jane Norton, 1868-1925, former owner.
Morgan, Junius Spencer, 1892-1960, former owner.
Morgan, Henry S. (Henry Sturgis), 1900-1982, former owner.