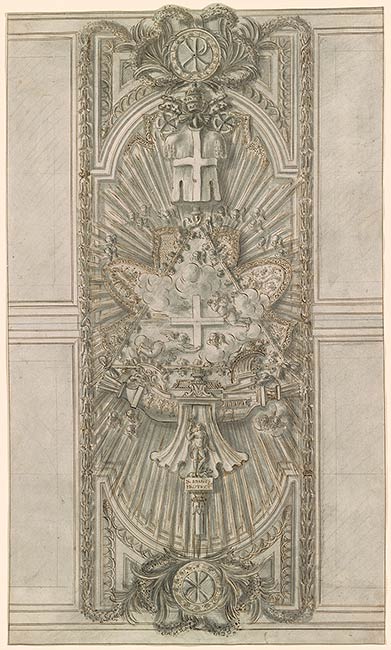 Workshop of Giovanni Battista Piranesi
Vault design with emblems of the Knights of Malta, for Santa Maria del Priorato
Pen and brown ink, with gray wash, over black chalk; framing line in pen and brown ink.
21 1/16 x 12 1/2 inches (534 x 318 mm)
Bequest of Junius S. Morgan and gift of Henry S. Morgan.
Inscription:
Inscribed within plaque of design, at lower center, in pen and brown ink, "S. IOANES / PROTECT ["or" in superscript above T].
Provenance:
Mrs. J. P. Morgan, New York; by descent to her sons Junius S. Morgan, Princeton and Paris (no mark, see Lugt 1536) and Henry S. Morgan, New York.
Bibliography:
Denison, Cara, Myra Nan Rosenfeld, and Stephanie Wiles. Exploring Rome : Piranesi and His Contemporaries. New York : Pierpont Morgan Library; Montréal : Centre Canadien d'Architecture, 1993, no. 33, repr.
Notes:
This drawing shows Piranesi's design for the stucco decorating the vault above the church's nave. It is rich with symbols of the Knights of Malta, featuring St. John the Baptist (the knights are formally the Order of St. John) as well as references to the order's maritime and military history. Although long identified as Piranesi's own study, it is not in his hand and must instead be a copy by a studio assistant--probably a clean copy of the master's drawing supplied to the stuccatore Tommaso Righi, who executed the stucco vault decoration.
At both ends of the ceiling design are shields with the Chi-Rho monogram of Christ backed by martyrs' palms, symbolic of the Knights lost in naval battles against the enemies of the church. The central emblem is the triangle of the Holy Trinity, surrounded by trophies of battle shields and sitting above stylized representations of the Knights' ships, with the tunic of the Knights above, and a depiction of John the Baptist, their patron saint, below.
Associated names:
Morgan, Jane Norton, 1868-1925, former owner.
Morgan, Junius Spencer, 1892-1960, former owner.
Morgan, Henry S. (Henry Sturgis), 1900-1982, former owner.