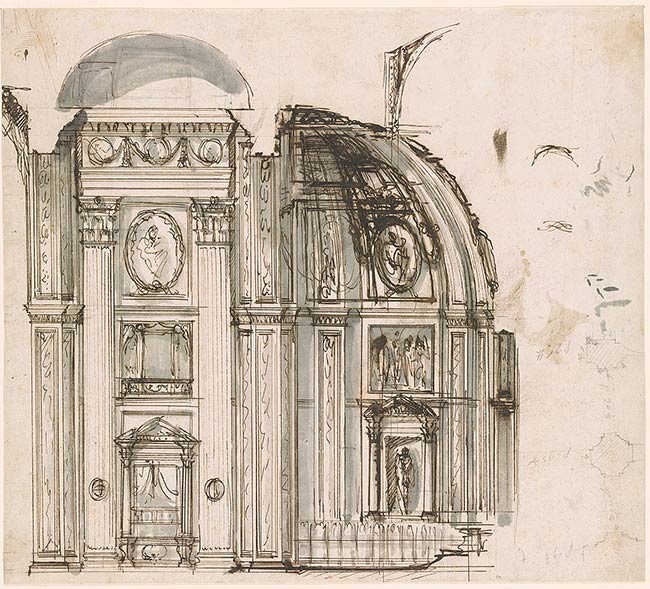 Giovanni Battista Piranesi
131. Proposed Alteration of San Giovanni in Laterano, with Forechoir and Choir Aedicule
Pen and brown ink, with gray wash, over graphite, on paper; brush and pen trials at right.
13 5/8 x 15 1/4 inches (347 x 388 mm)
Bequest of Junius S. Morgan and gift of Henry S. Morgan.
Inscription:
Watermark: Fleur-de-lis inside doube circle, mongram "CB" above, centered on chain line. Similar watermark on 1966.11:56 and 1966.11:55 and 1966.11:58
Provenance:
Mrs. J.P. Morgan, New York; by descent to her sons Junius S. Morgan, Princeton and Paris (no mark, see Lugt 1536) and Henry S. Morgan, New York.
Bibliography:
Denison, Cara, Myra Nan Rosenfeld, and Stephanie Wiles. Exploring Rome : Piranesi and His Contemporaries. New York : Pierpont Morgan Library; Montrǎl : Centre Canadien d'Architecture, 1993, no. 32, repr.
Notes:
Numbered at lower right, in graphite, "57".
Borromini rebuilt the nave of the Lateran Basilica in a style that was decidedly out of fashion by Piranesi's generation. Yet Piranesi had long held a deep admiration for his predecessor. In this idea for the rebuilding of the Lateran, Piranesi planned to expand Borromini's series of pedimented aedicules from the nave into the transept and around the choir. A refinement of the idea is seen in 1966.11:58. This scheme is also seen in finished presentation drawings, the Tavola Quarta and Tavola Quinta, now at Columbia University's Avery Library.
Associated names:
Morgan, Jane Norton, 1868-1925, former owner.
Morgan, Junius Spencer, 1892-1960, former owner.
Morgan, Henry S. (Henry Sturgis), 1900-1982, former owner.