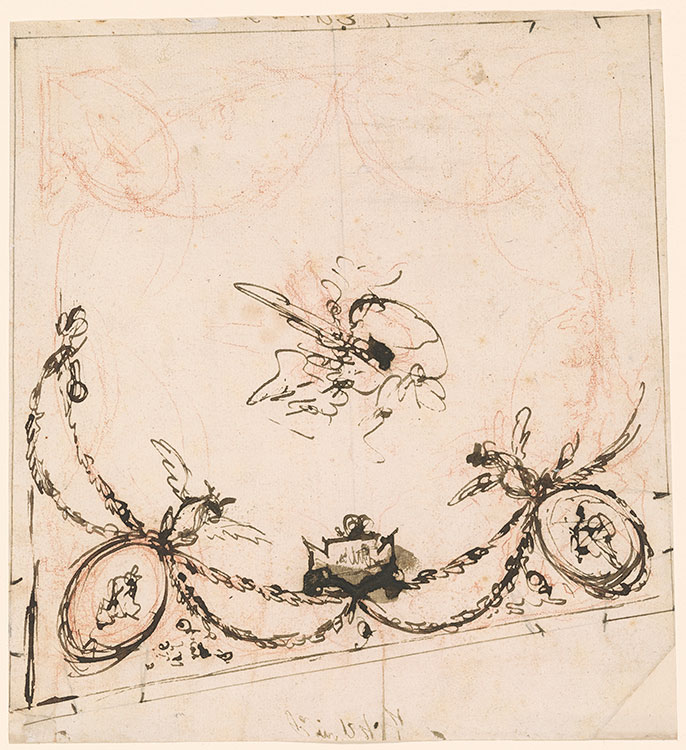 Giovanni Battista Piranesi
Sketch for a decorative panel with a circular pattern of medallions and garlands
Pen and brown ink, over red chalk, on paper.
9 7/8 x 8 7/8 inches (255 x 232 mm)
Bequest of Junius S. Morgan and gift of Henry S. Morgan.
Inscription:
Inscribed at lower center, inverted, in pen and brown ink, "Pa mi["mi" in superscript]"; numbered at upper left, inverted, in graphite, "113".
Provenance:
Mrs. J.P. Morgan, New York; by descent to her sons Junius S. Morgan, Princeton and Paris (no mark, see Lugt 1536) and Henry S. Morgan, New York.
Bibliography:
Stampfle, Felice. Giovanni Battista Piranesi, Drawings in the Pierpont Morgan Library. New York : Dover, 1978, no. 115, repr.
Notes:
This drawing represents a plan for a wall panel and shows Piranesi's evolution away from the curving Venetian Rococo of a similar earlier sketch at the Morgan (inv. 1966.11:13) and towards to an all'antica classicism. The inscription at top is a measurement -- 4 1/4 Roman palms -- indicating that this was probably a design for a real interior rather than a mere exercise in form. The intended purpose of the plan, however, has not been identified.
Associated names:
Morgan, Jane Norton, 1868-1925, former owner.
Morgan, Junius Spencer, 1892-1960, former owner.
Morgan, Henry S. (Henry Sturgis), 1900-1982, former owner.