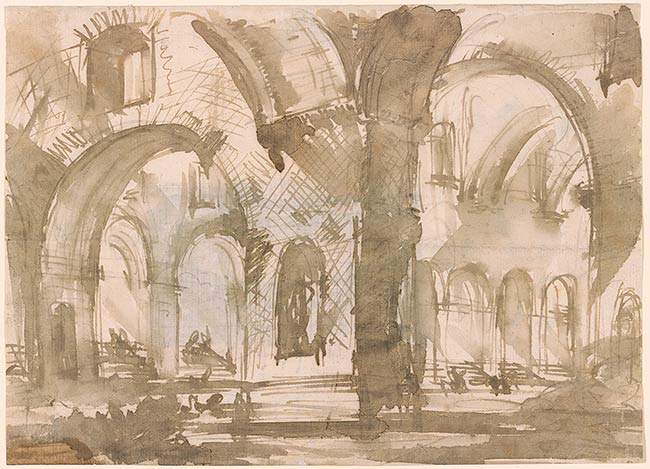 Giovanni Battista Piranesi
Interior with Arches and Piers. Verso: Interior with circular colonnade and fountain
ca. 1747-1748 (Verso ca. 1744-45)
Pen and brown ink and wash, over black chalk, on laid paper; verso: red chalk, pen and brown ink.
7 1/4 x 10 1/16 inches (184 x 255 mm)
Bequest of Junius S. Morgan and gift of Henry S. Morgan.
Inscription:
Inscribed on verso, in pen and brown ink, "finestre // colone cadute // nell'aqua // con altra fontana e // travio (?) principale / le basi che mese / ne sia o mese non // scalini".
Watermark: Six-pointed star (or sun) inside circle, cross at top of circle, letter "F" below circle, centered on chain line.
Provenance:
Mrs. J.P. Morgan, New York; by descent to her sons Junius S. Morgan, Princeton and Paris (no mark, see Lugt 1536) and Henry S. Morgan, New York.
Bibliography:
Stampfle, Felice. Giovanni Battista Piranesi, Drawings in the Pierpont Morgan Library. New York : Dover, 1978, no. 5, repr.
Notes:
Deeply shadowed and somewhat irrational with regard to space, this interior is cognate with the earliest designs for the Carceri. The freely drawn and quickly hatched pen lines, combined with a painterly fluid wash, highlight Piranesi's skills as a draftsman and evince a technical facility commensurate with his mastery of printmaking techniques. The dark shapes in the foreground and under the arches in the distance, which do not resolve themselves into clear forms, have the same allusive power as do the figures and devices of the prison etchings.
Associated names:
Morgan, Jane Norton, 1868-1925, former owner.
Morgan, Junius Spencer, 1892-1960, former owner.
Morgan, Henry S. (Henry Sturgis), 1900-1982, former owner.