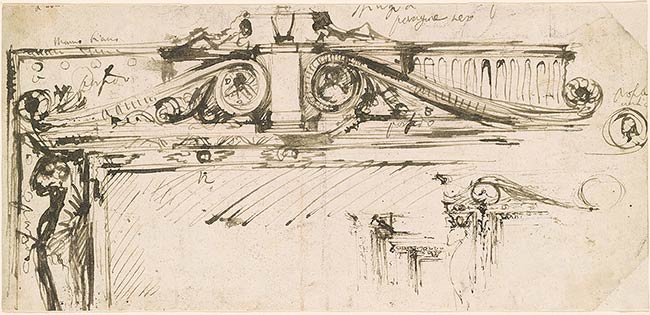 Giovanni Battista Piranesi
Design for a Chimneylpiece with a Vase between Volutes, with Monopods. Verso: Sketch for ornament with notes for the text of the "Diverse Maniere"
Pen and brown ink on paper; extraneous marks in black chalk; verso: black chalk, inscriptions in pen and brown ink.
7 13/16 x 16 9/16 inches (198 x 420 mm)
Bequest of Junius S. Morgan and gift of Henry S. Morgan.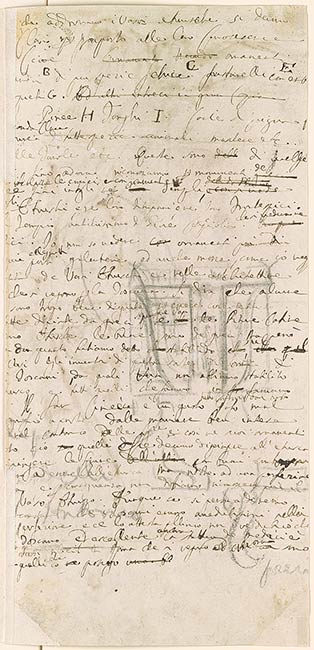 Inscription:
Inscribed at upper left, in pen and brown ink, "mano bianco // spugna / paragone nero"; on lintel, "porfido"(twice); on jamb, "porfido"; at right, "profil[e] / nati (?)".
Watermark: Fleur-de-lis inside double circle, with monogram "CB" above circle.
Provenance:
Mrs. J. P. Morgan, New York; by descent to her sons Junius S. Morgan, Princeton and Paris (no mark, see Lugt 1536) and Henry S. Morgan, New York.
Bibliography:
Stampfle, Felice. Giovanni Battista Piranesi, Drawings in the Pierpont Morgan Library. New York : Dover, 1978, no. 84, repr.
Notes:
Piranesi's inscriptions on this drawing remind us that etchings and drawings could not always capture the full scope of his designs: the notes indicate that rather than merely a white relief, the chimneypieces piece was conceived as a mix of white marble, black slate, porphyry, and other materials.
Drawing is on the verso of a sheet of notes in pen and brown ink dealing with Etruscan vases (see Stampfle catalogue entry cited below for full transcription). These appear to be notes for the text of Piranesi's "Diverse maniere d'adornare i cammini." As the text was probably the last element added to the Diverse Maniere, after the plates were complete, it is likely that this drawing postdates the publication. This is not surprising: Piranesi received numerous known commissions for chimneypieces after the publication (including the chimneypieces at Gorhambury, Wedderburn, and Stowe - the last now in the collection of Banco Santander), and many of the Morgan sketches that cannot be linked to the Diverse Maniere plates also have inscriptions indicating colors or types of marble--porphyry, alabaster, black slate, and so forth--likewise suggesting that they were idea for actual, rather than paper, designs.
Associated names:
Design for (work): Piranesi, Giovanni Battista, 1720-1778. Diverse maniere d'adornare i cammini.
Morgan, Jane Norton, 1868-1925, former owner.
Morgan, Junius Spencer, 1892-1960, former owner.
Morgan, Henry S. (Henry Sturgis), 1900-1982 former owner.