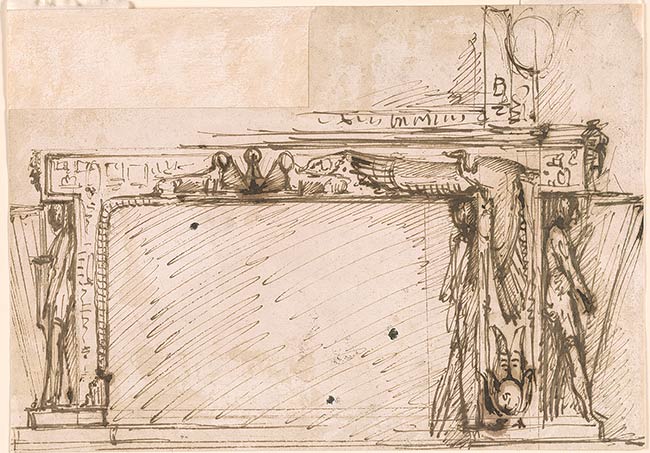 Giovanni Battista Piranesi
Design for a Chimneypiece with Egyptian Ornament
Pen and brown ink on paper made up with large strip at upper left.
8 9/16 x 12 3/16 inches (218 x 309 mm)
Bequest of Junius S. Morgan and gift of Henry S. Morgan.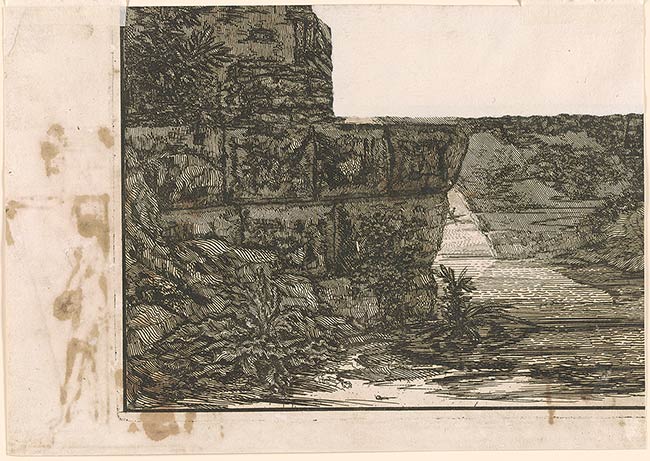 Inscription:
Watermark: Crown, top fragment.
Provenance:
Mrs. J. P. Morgan, New York; by descent to her sons Junius S. Morgan, Princeton and Paris (no mark, see Lugt 1536) and Henry S. Morgan, New York.
Bibliography:
Stampfle, Felice. Giovanni Battista Piranesi, Drawings in the Pierpont Morgan Library. New York : Dover, 1978, no. 68, repr.
Notes:
The etching on the verso is a fragment of a proof, before letters, of Piranesi's View of the Ponte Lucano from the Vedute, 1763 (f. 773).
Piranesi's fascination with Egyptian style reached its peak in the mid-1760s. In addition to designing several mantelpieces like this one (with confronted sphinxes, a vulture, and hieroglyphs), he redecorated the Caffè degli Inglesi, near the Spanish Steps, with an Egyptian interior. Among his other polemical points in the Diverse maniere, Piranesi argued that ancient Etruscan and Roman design evolved as much from Egyptian models as from Greek ones. While the Egyptian motifs struck most of Piranesi's contemporaries as overly fanciful, the Diverse maniere helped establish a taste for Egyptian style in the following generation.
Two of the plates of the Diverse Maniere relate to Piranesi's Egyptian decoration for the Caffè degli Inglesi, the English coffee house in Rome, and there are eleven chimneypieces in Egyptian style. For whatever reason, relatively few drawings survive for the Egyptian-styled plates of the book. This drawing is for a chimneypiece in the Egyptian style, but it was not used for an etching in the Diverse Maniere.
Associated names:
Morgan, Jane Norton, 1868-1925, former owner.
Morgan, Junius Spencer, 1892-1960, former owner.
Morgan, Henry S. (Henry Sturgis), 1900-1982, former owner.