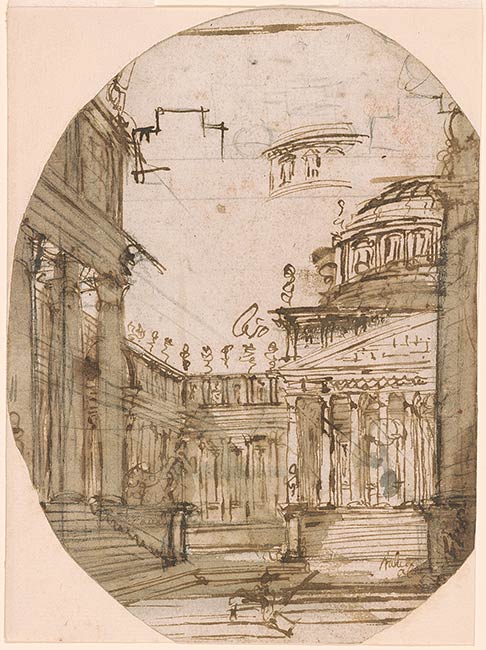 Giovanni Battista Piranesi
Architectural complex: a Court with a Domed Building. Verso: Fragments of Plans
Pen and brown ink and wash, over black chalk, on paper; verso: pen and brown ink, black ink wash trials, squaring in graphite.
trimmed at right and bottom: 7 1/2 x 5 9/16 inches (191 x 141 mm), oval
Bequest of Junius S. Morgan and gift of Henry S. Morgan.
Inscription:
Inscribed at lower right, in pen and brown ink, "statua / a cavalo".
Watermark: Fleur-de-lis inside double circle over letter "V", centered on chain line.
Provenance:
Mrs. J. P. Morgan, New York; by descent to her sons Junius S. Morgan, Princeton and Paris (no mark, see Lugt 1536) and Henry S. Morgan, New York.
Bibliography:
Stampfle, Felice. Giovanni Battista Piranesi, Drawings in the Pierpont Morgan Library. New York : Dover, 1978, no. 2, repr.
Notes:
Though not directly related to any of the prints of the Prima parte, this architectural fantasy also dates to the early 1740s. Piranesi combined the pedimented front of the Pantheon with a dome raised on a high drum, akin to that of St. Peter's Basilica, then set the building in a rectangular courtyard. An inscription at lower right suggests that an equestrian sculpture ("Statua al Cavallo") would be added to the scheme. The lively rendering and calligraphic shorthand--for example, the twisting lines that indicate sculpture at the roofline of the courtyard-demonstrate Piranesi's growing confidence as a draftsman and inventor.
Associated names:
Morgan, Jane Norton, 1868-1925, former owner.
Morgan, Junius Spencer, 1892-1960, former owner.
Morgan, Henry S. (Henry Sturgis), 1900-1982, former owner.