Martyrdom of St. James the Less, 1604-10. Verso: Martyrdom of St. James the Less (?), with Extensive Inscriptions
Pen and brown ink, over black chalk, on paper; verso: black chalk.
8 1/2 x 9 1/8 inches (215 x 230 mm)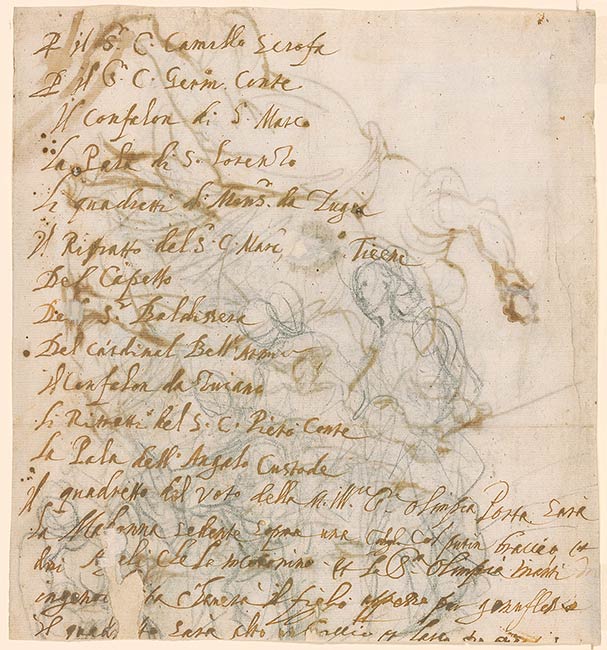 Inscription:
Inscribed with list of subjects of paintings, probably by Alessandro Maganza, in pen and brown ink, "p[er] il Sr[superscript r]. C. Camillo Scrofa / p[er] il Sr[superscript r] C. Germ ̊Conte / il Confalon [i.e. Gonfalone or Gonfaloniere? check] di S. Marco / La Pala di S. Lorenzo / li quadretti di Monsr da Zugia / il ritratto del Sr[superscript r] C. Marc' ... [loss in paper] Tieene / Del Capello / Del Sr[superscript r] Baldissera / Del Cardinal Bell'Armino / il Confalon da Zuiano / li Ritratti del S.C. Pietro Conte / La Pala del Angelo Custode / il quadretto del voto della M. Ill.a[superscript a]. Sa[superscript a] Olimpia Porta Sara / La Madonna sedente sopra una Caligla col putin braccio col / doi Angeli che la incoronino et la Sa[superscript a Olimpia inanzi [In(?)]/ ingeno[chi]ata c[o]n[superscript n] Sanesa il figlio app[r]esso per genuflessio / il quadretto sarà alto(?) in Gallio(?) et Lasco[Larco?] ...[cropped by lower edge of paper]".
Provenance:
Moscardo collection, Verona, which passed to the Marquis de Calceolari (no mark; see Lugt S. 2990a-g); purchased by János Scholz, New York (no mark; see Lugt S. 2933b).
Notes:
The drawing is a prepatory study for Maganza's painting, "Martrydom of St. James the Less", ca. 1603-10 in SS. Filippo e Giacomo, Vicenza.
Associated names:
Moscardo family, former owner.
Calceolari, Marquis de, former owner.
Scholz, János, former owner.