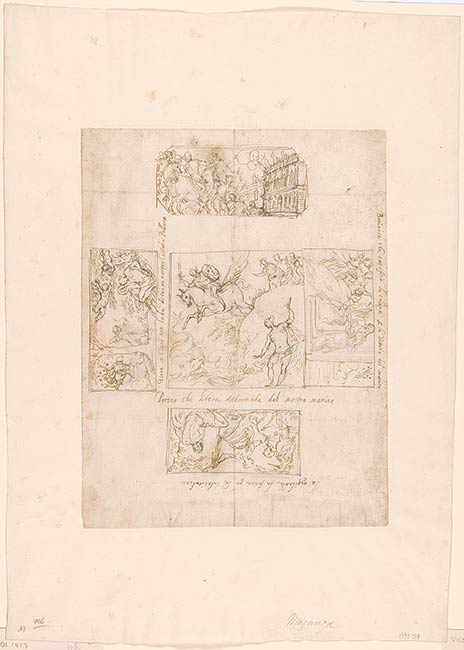 Design for a Ceiling with Perseus Freeing Andromeda at Center
Pen and brown ink, over black chalk, on paper.
10 7/8 x 8 1/4 inches (275 x 210 mm)
Inscription:
Inscribed as labels for the various compartments, in pen and brown ink: at center, "Perseo che libera Andromeda dal mostro marino"; at left, "Gione in [or Unione del (?)] Cigno con Leda di cui ne[or se] nacque Castor e Polluce"; at right, "Berinice che sacrifici ̣la chioma p[er] la Vitoria del marito"; at bottom, "La vigilanza la fatica e la solecitudine".
Provenance:
Moscardo collection, Verona, which passed to the Marquis de Calceolari (no mark; see Lugt S. 2990a-g); purchased in Zurich in 1949 by János Scholz, New York (no mark; see Lugt S. 2933b).
Notes:
Watermark: none visible through lining.
Associated names:
Moscardo family, former owner.
Calceolari, Marquis de, former owner.
Scholz, János, former owner.