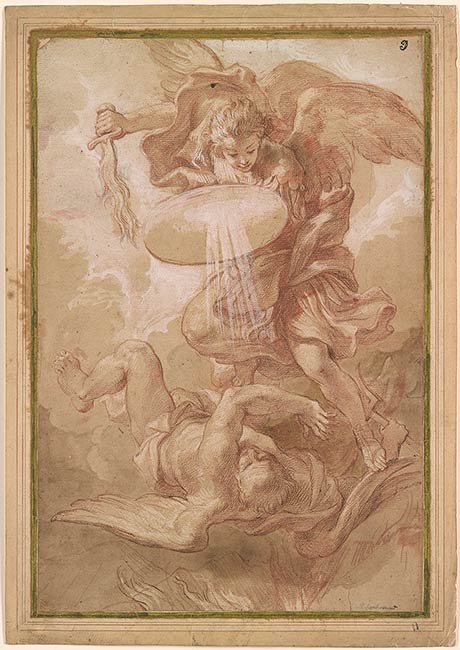 Attributed to Benedetto Luti
Red chalk, pen and brown ink, brown wash, over traces of black chalk, heightened with white gouache, on paper.
16 x 10 3/4 inches (409 x 272 mm)
Gift of Mr. Frederick B. Adams, Jr.
Inscription:
Inscribed at lower right corner, in graphite, "P. Cortona"; in different hands on verso of old mount, in various inks: at upper left, "Fawkener's Sale"; at center, "Pietro da Cortona"; numbered in opposite direction at left, "£43-2-d"; inscribed at upper right, in graphite, "John"; and at lower left, "Romanelli".
Provenance:
Joseph Gulston (1744(?)-1786), Ealing Grove, London (formerly pseudo-Crozat; Lugt 474); possibly W. Fawkener or Everard Fawkener (according to inscription on old mount); P. & D. Colnaghi and Co., London; Frederick B. Adams, Jr., Paris.