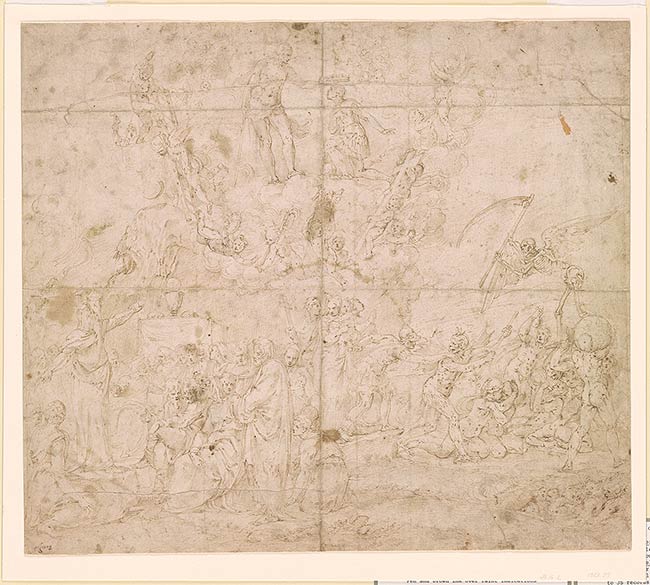 Triumph of the Christian Hero
Pen and brown ink, over black chalk, on paper.
13 5/8 x 15 1/2 inches (345 x 394 mm)
Inscription:
Numbered at upper right, in pen and brown ink, "160"; inscribed at lower left, in pen and brown ink, "figino"; on verso, visible through lining, "[illegible] / G. Antonio Vecchini come Prova delle Ercl".
Provenance:
Possibly Benno Geiger (1882-1965), Vienna; probably his sale, Venice, 25 January 1952; Cassini, Venice; from whom purchased in 1954 by János Scholz (1903-1993), New York (no mark; see Lugt S. 2933b).
Description:
The present study is similar to, and likely preceded, Franco's now-lost composition of the Triumph of the Christian Hero, known through Andrea Andreani's woodcut of 1610.1 Andreani's print is dedicated to Lodovico Gonzaga and in the inscription below the image, the artist records that he owned the "dissegno [sic] del Semoleo," that is, the drawing by Battista Franco, called il Semolei.2 Inscribed "Figino," the attribution of the Morgan drawing to Franco and its connection with Andreani's print was first noted by Philip Pouncey (recorded in the curatorial file, 1954).3 Anne Varrick Lauder observes that two sheets – one now in the Rijksmuseum, Amsterdam, and another formerly in the collection of Jeffrey E. Horvitz, sold at auction in 2008 – feature figure studies related to the composition.4
Footnotes:
The Illustrated Bartsch, 48: 223, no. 14 (136).
"Essendo longo tempo stato come sepolto nelle mie mani questo nobile dissegno del Semoleo, & parendomi di far torto alla professione donatami da Dio, mi son finalmente rossolto farlo uscire in luce in questo intaglio…"
Pouncey's attribution and connection is acknowledged but not followed in Oakland and elsewhere 1956, no. 36 (as Figino).
Rijksmuseum, Amsterdam, inv. RP-T-1948-367; Sotheby's, New York, 23 January 2008, lot 7. See Lauder 2009, 239, under no. 70.
Bibliography:
Selected references: Oakland and elsewhere 1956, no. 36 (as Figino); Washington and New York 1973-74, no. 103, (as Franco); Fellows Report, 1984, 259 (as Franco); Lauder, in Ames-Lewis 2003, 105; Lauder 2009, 239, under no. 70, 244, under no. 73; 268, under no. 93; 275, under no. 99; New York 2019, 31-32.
Oberhuber, Konrad, and Dean Walker. Sixteenth Century Italian Drawings From the Collection of János Scholz. Washington, D.C. : National Gallery of Art ; New York : Pierpont Morgan Library, 1973, no. 103, repr.
Ryskamp, Charles, ed. Twentieth Report to the Fellows of the Pierpont Morgan Library, 1981-1983. New York : Pierpont Morgan Library, 1984, p. 259.
Notes:
Watermark: none visible through lining.
Formerly attributed to Ambrogio Figino (1548-1608).
Connected with the chiaroscuro print of 1610, "A Christian Hero" (B.XIII, 136, no. 14) by Andrea Andreani (active ca. 1580-ca. 1610).
Associated names:
Figino, Giovanni Ambrogio, 1552 or 1553-1608, Formerly attributed to.
Geiger, Benno, 1882-1965, former owner.
Cassini, former owner.
Scholz, János, former owner.