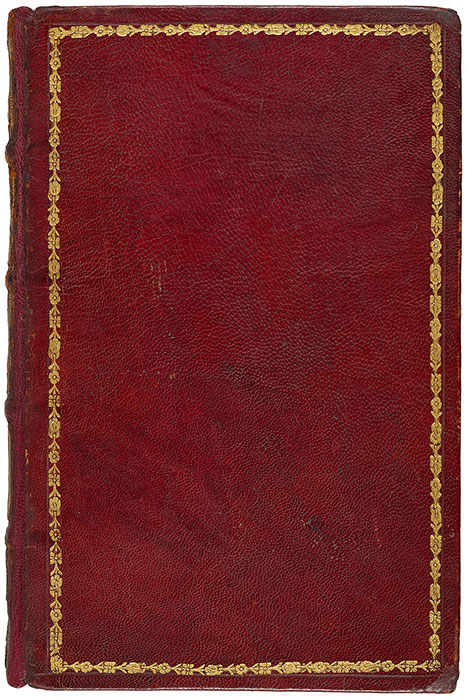 Red and black chalk on laid paper.
Album: 8 3/4 x 5 3/4 inches (221 x 146 mm); folio: 8 3/8 x 5 1/2 inches (214 x 141 mm)
Purchased as the gift of Anne and Carl Stern.
Inscription:
The pages of the album are consecutively numbered in graphite, in the lower left corner of the recto, 1-19; with the exception of folio 18, which contains three drawings. Commentary by Padre Sebastiano Resta in the lower edge of each drawing.
Provenance:
Padre Sebastiano Resta, Milan (1635-1714; see Lugt 2992); Francesco Maria Gabburri, Florence; from whom purchased by Mr. William Kent at Gabburi's death in 1742; Earl of Yarborough, Brockleby Park; P. & D. Colnaghi and Co., London; from whom purchased as the gift of Anne and Carl Stern.
Bibliography:
Adams, Frederick B., Jr., comp. Thirteenth Report to the Fellows of the Pierpont Morgan Library, 1963 & 1964. New York : Pierpont Morgan Library, 1964, p. 92.
Stampfle, Felice, and Jacob Bean. Drawings from New York collections. I: The Italian Renaissance. New York : Metropolitan Museum of Art : Pierpont Morgan Library, 1965, p.80-81, no. 148.
Pierpont Morgan Library. Review of Acquisitions, 1949-1968. New York : Pierpont Morgan Library, 1969, p. 144.
Notes:
Watermarks: introductory page, folios 1, 6, 10, 11, 15, 18; on some album pages: three-leafed plant in a double circle surmounted by end of arrow?; and on letter: bird on two monti in circle.
The album, containing 21 chalk drawings of portrait heads by Ambrogio Figino, was assembled by Padre Sebastiano Resta and later placed in an eighteenth-century red morocco binding, with floral borders tooled in gold on both covers, the edges of the boards, and the spine. Each drawing is mounted on an album page and set off by a border of brown wash. A title page, introduction, and a letter are also included in the album.
The album is one of at least 24 assembled by Padre Sebastiano Resta, of which only six have remained intact. It contains 21 of the original 24 drawings listed at the time of the Gabburri inventory in 1722.
Associated names:
Resta, Sebastiano, former owner.
Gabburri, Francesco Maria Niccolò, 1676-1742, former owner.
Kent, William, former owner.
Yarborough, Earl of, former owner.
Stern, Anne Bigelow, donor.
Stern, Carl, donor.