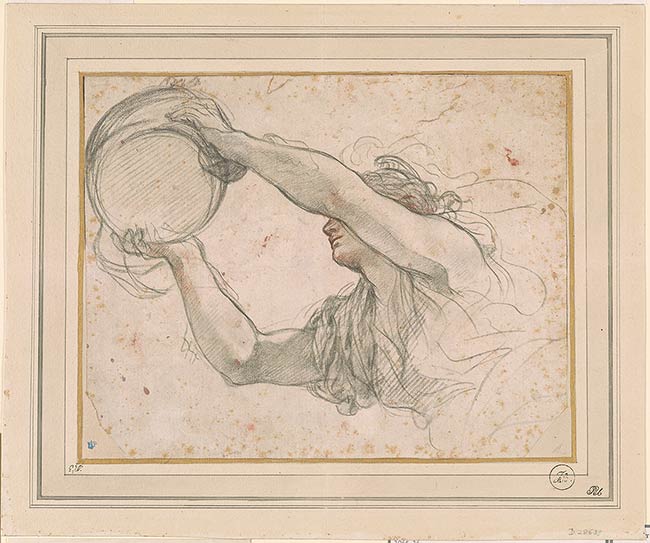 Woman Holding the Papal Tiara
Black and red chalk on paper.
8 11/16 x 10 7/8 inches (220 x 277 mm)
Purchased as the gift of the Fellows with the special assistance of Anne and Carl Stern.
Provenance:
Robert Udny, London (Lugt 2248); Thomas Banks, London (Lugt 2423); probably Lavina Forster and Ambrose Poynter, London (see Lugt 161); Edward J. Poynter, London (Lugt 874); his sale, London, Christie's, 24-25 April 1918, lot 31; Earls of Harewood, Yorkshire; sale, London, Christie's, 6 July 1965, lot 123.
Description:
Pietro da Cortona is best known for his masterpiece of baroque illusionism, the ceiling of the Great Hall of the Palazzo Barberini, Rome, frescoed between 1632 and 1639. Depicting an Allegory of Divine Providence, the ceiling glorifies the Barberini family, including Pope Urban VIII. This study is preparatory for the female figure personifying Rome. An expert exploration of the figure's foreshortened form, lit from above, it is one of the most beautiful of the studies related to the commission.
Notes:
Study for the figure of Rome in the ceiling fresco of the Great Hall, Palazzo Barberini, Rome.