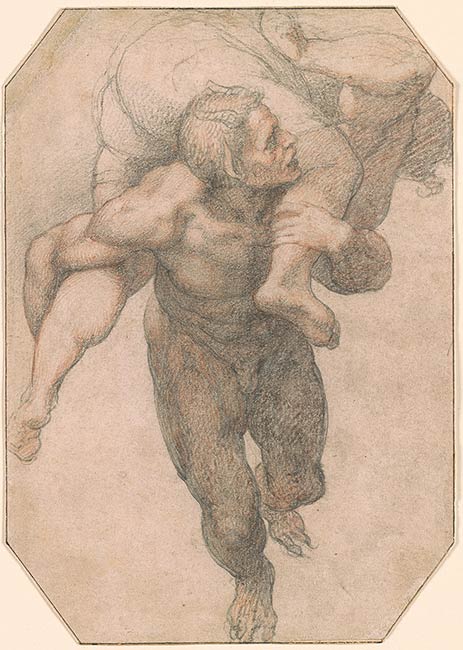 Devil Carrying Off a Damned Soul, after Michelangelo's "Last Judgement". Verso: Male Torso of a Scorticato (Flayed Figure)
Black and red chalk on laid paper; verso: red chalk.
8 7/8 x 6 5/16 inches (225 x 160 mm)
Purchased by Pierpont Morgan (1837-1913) in 1909.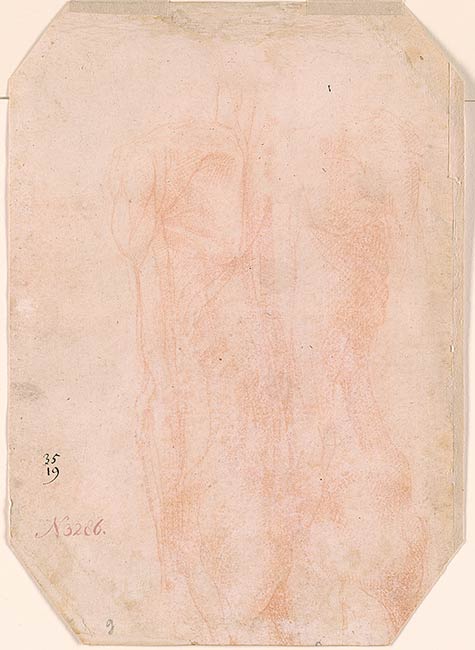 Inscription:
Inscribed on verso, at lower left, in pen and black ink, "35 / 19"; beneath this, in pen and red ink, "N 3286".
Provenance:
Valerius Röver, Delft (1686-1739; Lugt 2984c); Jonkheer Johann Goll van Franckenstein, Amsterdam (1722-1785; Lugt 2987); Charles Fairfax Murray (1849-1919), London and Florence; from whom purchased through Galerie Alexandre Imbert, Rome, in 1909 by Pierpont Morgan (1837-1913), New York (no mark; see Lugt 1509); his son, J. P. Morgan, Jr. (1867-1943), New York.
Notes:
After Michelangelo Buonarroti.
Associated names:
Michelangelo Buonarroti, 1475-1564, after.
Röver, Valerius, 1686-1739, former owner.
Goll van Franckenstein, J. (Johann), 1722-1785, former owner.
Murray, Charles Fairfax, 1849-1919, former owner.
Morgan, J. Pierpont (John Pierpont), 1837-1913, former owner.