Allegorical Figure of Justice, Seated. Verso: Sketch of the Lower Half of a Seated Figure (?)
Pen and brown ink and brown wash, over black chalk, on paper. Verso: black chalk.
8 3/4 x 5 13/16 inches (222 x 147 mm)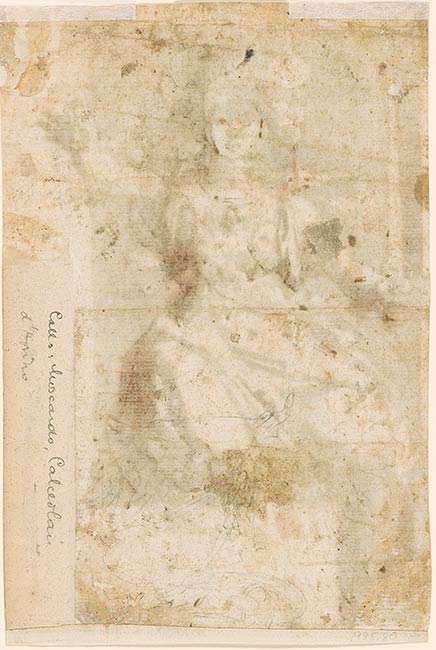 Provenance:
Moscardo, Verona; Marquis de Calceolari (cited in Washington and New York 1973-74 and in János Scholz' records), from whom purchased (?) by János Scholz (1903-1993), New York (see Lugt Suppl. 2933b).
Bibliography:
Builders and Humanists: the Renaissance Popes as Patrons of the Arts, University of St. Thomas Art Department, Houston, Texas, 1966, no. 19, repr. (Giuseppe Cesari)
In the Shadow of Vesuvius: Neapolitan Drawings from the Collection of János Scholz, exhibition catalog with a foreword by R. L. Manning and introduction by János Scholz, Finch College Museum of Art, New York, 1969, no. 5 (Giuseppe Cesari).
Oberhuber, Konrad, and Dean Walker. Sixteenth Century Italian Drawings From the Collection of János Scholz. Washington, D.C. : National Gallery of Art ; New York : Pierpont Morgan Library, 1973, no. 13, repr. (as Roman, late 16th century)
Ryskamp, Charles, ed. Twenty-First Report to the Fellows of the Pierpont Morgan Library, 1984-1986. New York : Pierpont Morgan Library, 1989, p. 328 (as Giuseppe Cesari)
Notes:
Watermark: none.
Possible attributions have been suggested to Federico Zuccaro, S. Angelo in Vado 1540/2-1609 Ancona; Giuseppe Cesari, called il Cavaliere d'Arpino, Arpino near Sora 1568-1640 Rome; Marco Marchetti (also known as Marco da Faenza) (Faenza ca. 1528-1588); Raffaellino da Reggio (Codemondo 1550-1578 Rome); Zuccaro's studio.
Associated names:
Cesari, Giuseppe, 1568-1640, Formerly attributed to.
Zuccaro, Federico, approximately 1540-1609, Possible attribution.
Raffaellino, da Reggio, 1550-1578, Possible attribution.
Faenza, Marco da, Formerly attributed to.
Moscardo family, former owner.
Calceolari, marquis de, former owner.
Scholz, János, former owner.