Mountainous Landscape with Town, in Foreground, Shepherd Separating Two Dogs
Pen and brown ink on paper.
9 7/16 x 14 15/16 inches (240 x 379 mm)
Purchased by Pierpont Morgan (1837-1913) in 1909.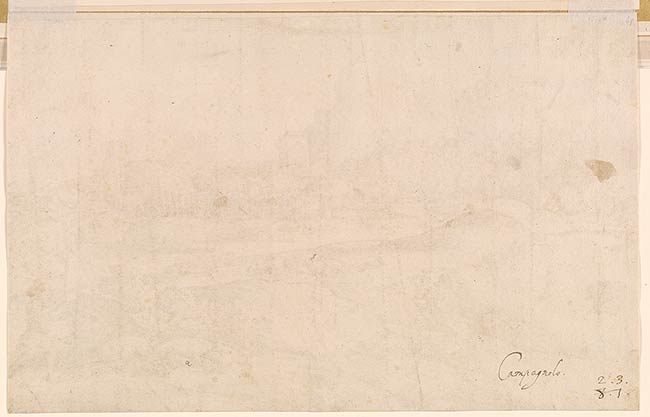 Inscription:
Inscribed, probably by William Gibson, on verso at lower right, in brown ink, "Campagnolo. / 2.3. / 8.7" (the 8.7 possibly changed from 7.(?)); in upper right corner, in graphite, "69"; at lower left, in graphite, "a".
Watermark: Crossbow in a circle. (cf. Briquet I, 749. Lucca, 1548).
Provenance:
Sir Peter Lely (1618-1680), London (Lugt 2092); William Gibson (1644/5-1702), Surrey (possibly his inscription on verso); Charles Fairfax Murray (1849-1919), London and Florence; from whom purchased through Galerie Alexandre Imbert, Rome, in 1909 by Pierpont Morgan (1837-1913), New York (no mark; see Lugt 1509); his son, J.P. Morgan, Jr. (1867-1943), New York.
Description:
The drawing is one of Domenico's somewhat repetitive but influential late landscape drawings, where the figures usually are relatively small and relegated to the background, while the vast landscapes themselves are rendered in an increasingly summary and formulaic style. The Tietzes were inclined to attribute it to Campagnola's workshop, but Nickel accepts it as the master's work, dating it to the 1540s.
Bibliography:
Tietze and Tietze-Conrat, 1944, 130, no. 521; Nickel 2017, cat. 215.
Collection J. Pierpont Morgan : Drawings by the Old Masters Formed by C. Fairfax Murray. London : Privately printed, 1905-1912, IV, 66, repr.
Associated names:
Lely, Peter, Sir, 1618-1680, former owner.
Gibson, William, 1644 or 1645-1702, former owner.
Murray, Charles Fairfax, 1849-1919, former owner.
Morgan, J. Pierpont (John Pierpont), 1837-1913, former owner.